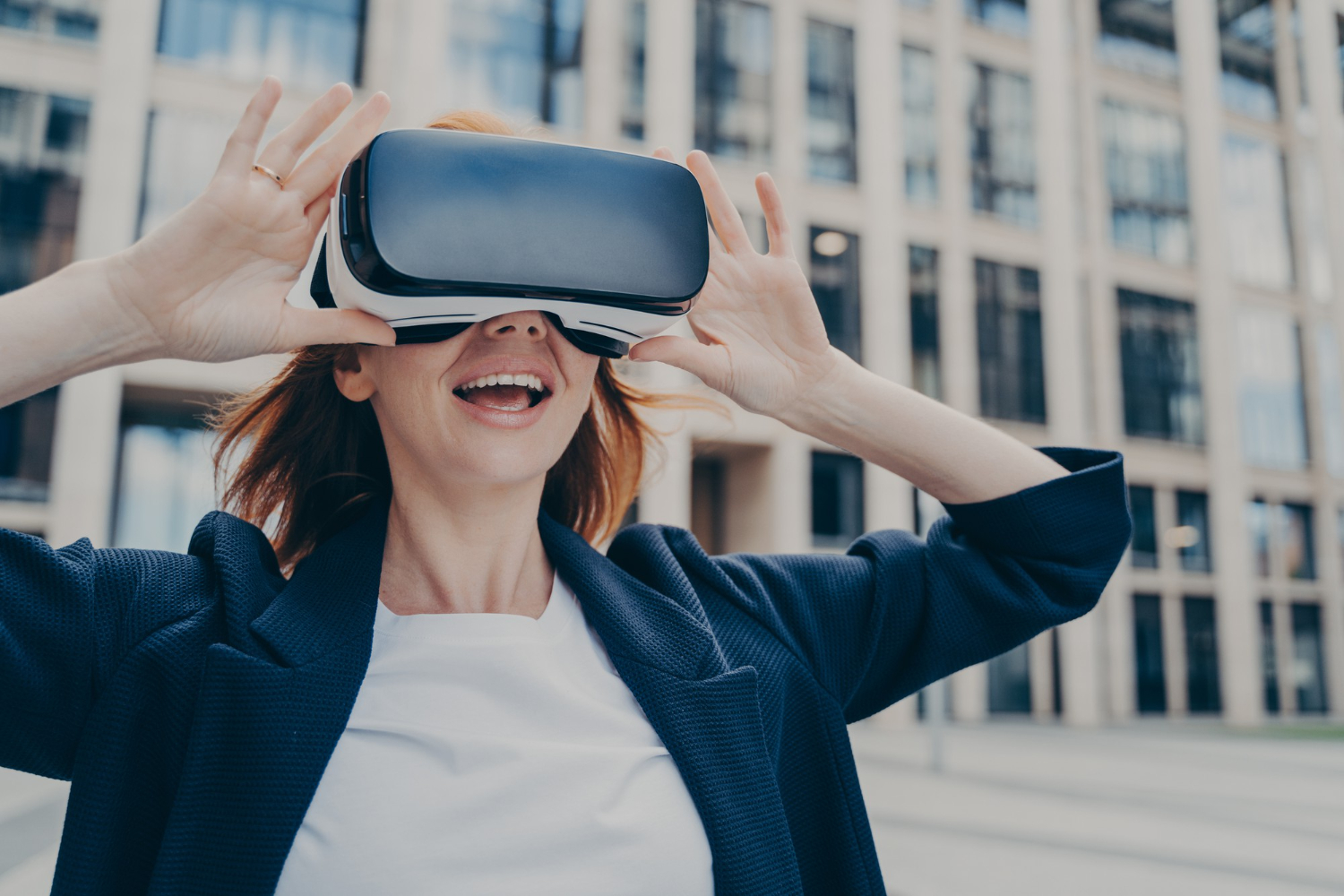 Virtual tours of real estate: Enhancing the Home-Buying Experience
Nowadays, we buy more and more things using the Internet. How about big purchasing decisions? Is it possible to buy a home online? After all, it is a life-affecting decision and a great investment involving a lot of effort and money. Yet, there are innovative technologies like virtual reality. They allow you to take advantage of virtual tours of real estate that make the home buying experience more approachable and exciting. 
Before making any purchase people usually do an online research. This also applies to the real estate market. Apparently, 95% of buyers look for their new home on the Internet. Half of them eventually buy a house found online. 
The thing is that there are many property listing websites out there. On the one hand, realtors have a tough task trying to draw people's attention to their website. On the other hand, it is equally difficult for potential homebuyers to find their way in the jungle of the offers. 
Virtual reality (VR), one of the latest technological advancements, can make a difference. Both realtors and homebuyers can benefit from VR in real estate to organize 'virtual tours' of listed properties. It looks like real estate professionals can't afford to run a business without having virtual tours on their website. Homebuyers have already learned to appreciate all the advantages VR tools are giving to them. It was found that 77% of clients want to tour a property virtually before doing an on-site visit. 
What is a virtual tour of real estate?
VR technology enables the creation of real estate virtual tours. As a simulation of a location, they convey the impression of a physical property viewing. Added as an interactive feature to the real estate websites, VR tours enable homebuyers to view a place remotely. People can walk through a property virtually and discover features of the space on their own.
Virtual real estate tours are composed of videos and/or photos created with the use of 360 technologies. After taking photos of each room with a panoramic or 360-degree camera, all images are uploaded into an application that links them up. 
Most software for virtual real estate tours include features like audio description or links to additional photos with more details of particular objects. So it is possible to add information or embed additional pictures to be viewed when clicked on specific interactive spots. Once a virtual tour is completed, you'll get a link with a code to implement it on the website or social media.
Virtual reality is one of the Proptech trends that both real estate professionals and home buyers can take advantage of.
Buyers' benefits from virtual tours of real estate
There is no doubt that 3d virtual house tours can enhance the online buying experience. A virtual visit of a property is an excellent way to get a feeling of the building and its surroundings. 
Comfort of flexibility
Thanks to virtual tours of real estate potential buyers can check a property from the comfort of their own home. They can virtually tour a house at their own pace, taking as much time as they need to explore it. Using VR technology gives them also a sense of independent judgment. They simply don't feel that somebody has prompted their decision to buy. 
Moreover, all listed properties are available around the clock, so buyers can virtually tour a place whenever it suits them. They can take a break and carry on a VR tour when they have time for it. Thanks to the flexible approach, people can have a closer look at the property and more time for decision making.
Overview and detailed research
Real estate virtual tours can give you an overview of available properties. Before arranging a lot of guided tours with a real estate agent to see all the places in the area, homebuyers can do online research by touring properties virtually to narrow down places for further exploration.

Virtual tours of real estate give you the opportunity to self-navigate through the property exploring each corner of a house. To make the most of virtual reality tours, visitors can check a space by zooming and clicking on items for more information.
Long-distance research
Choosing the right house to buy or rent is a difficult decision, especially when you need to move far away. Therefore, virtual tours of real estate are best for people looking for a place to live in another region or abroad. Buyers can view properties remotely and ask for a property visit only when they find an appropriate place.
Therefore, real estate virtual tours are perfect for long-distance buyers. VR tours allow them to explore sites they are not able to visit physically or cannot afford so many travels.
Saving time and money
It takes a lot of effort to look for a place to live. The National Association of Realtors found that the average homebuyer searched for 8 weeks and looked at a median number of 9 homes before making a decision. Using VR for real estate could cut down the time spent on viewing properties that people won't buy anyway.
As mentioned above, properties might not be in the same neighborhood. Even if they are in close proximity to each other, visiting each house one by one would be time-consuming and quite tiring. Instead of wasting time and money on unnecessary travels, homebuyers can tour a property virtually to find out whether it is up to their expectations, before doing any on-site visits.
Support for imagination
It's hard to visualize yourself at a place, especially when the house is under construction or renovation takes place. Sometimes, the property could turn out suitable for you, but it needs just a few alterations to fit in. Not all buyers are capable of such power of imagination. Ain't no mountain high enough when implementing 3d virtual house tours. 
VR real estate tours know how to turn imagination into reality. People can see what the project will look like once it's finished. If it is feasible at the stage of work, they can share their ideas and ask for some changes. In this way, an ordinary project can be turned into the home of their dreams.
Improving selling experience
Not only homebuyers, but also people selling the house can benefit from implementing virtual tours of real estate. Residents of the house that is on sale need to be ready for property viewings anytime. Let's face it. It's not easy to keep the house clean all the time. It's also not convenient, as sometimes happens, to leave the house during property visits.
Real estate virtual tours are not disruptive for the daily routine. You need to tidy up your home once in order to take nice photos for creating a virtual tour that will cut down considerably the number of disruptive on-site visits.
Search for fun
Last but not least. Looking for a new home can be fun, not a tedious job. People enjoy using interactive technology and virtual tours of real estate allow buyers to interact with the space. They can move around the property discovering the space by zooming and clicking the objects. As a result, they get a better picture of the place and have a lot of fun discovering it.
Moreover, with the use of VR tools new tenants can get acquainted easily with the place. Instead of reading complex instructions, they can be walked through the process to get a better understanding of the building.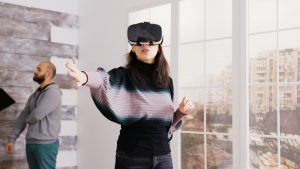 Benefits of virtual real estate tours for agents
Using VR technology to create virtual tours of real estate can help to increase business conversion rate. Let's look at the benefits real estate professionals can get when implementing VR in real estate websites.
Presentation – Best way to display property
Real estate agents must pay attention to the way how listed properties are displayed. Despite the top quality of attached photos, clients often cannot make their mind asking many questions and arranging lots of house rounds. There are many reasons for that. First of all, people rely on a few photos that additionally present only some property features. Secondly, still images are not good enough at giving the real feeling of the place. 
Real estate virtual tours allow agents to display properties in the best possible way, increasing the perceived value of a place. They not only highlight all spots worth seeing, but they also enable visitors to explore the space on their own.
Visualization – Giving an idea of the place 
In the case of a building that is being renovated it's hard to arrange a visit, let alone when a building is still under construction. With the use of VR technology you can show clients around regardless of the stage of work. Moreover, by adding some furniture to the interior it is possible to make the place more appealing. As a result, buyers can see ready interiors, which would only be possible in a few months in the real world. 
Therefore, virtual tours of real estate make it much easier for prospective clients to experience a property and picture themselves inside. Moreover, realtors can meet clients halfway by introducing required changes. In this way, they give them an idea of how the place will look after making adjustments. By helping clients visualize the place, virtual reality tours support the decision making process.
Better time management – increasing productivity
By digitizing open house events, virtual tours allow real estate agents to save time spent on scheduling events, arranging property visits, showing clients around and keeping track of contact information.
Virtual real estate tours also include interactive points displaying some particulars when clicked. In this way, homebuyers can be provided with many useful information about property features straight away. Therefore, real estate agents don't have to answer the same questions again and again, thus they avoid many unnecessary inquiries. Instead, they receive feedback in real-time without leaving the office!
The time saved can be spent on other activities like promotion or negotiations. Having more time, real estate agents will be able to attend to more clients and process more inquiries which directly translates into profit.
Visit optimization – Saving time and efforts
Before property viewing clients always have some expectations that are often delusive, as they are based only on a limited number of photos and videos on the website. Real estate virtual tours allow for deeper property exploration helping home buyers gain a better idea of the place. Therefore, VR tours help real estate agents to single out clients that are genuinely interested in the property. 
It means no more people visiting properties to satisfy their pure curiosity. No more real estate agents wasting their time by giving useless tours and trying to persuade random customers. Instead, they can channel their efforts more effectively by devoting their time to clients with real purchase intent. Thanks to the optimized number of visits, real estate agents can manage their tasks in a better way, getting more productive for the company and more accessible for the clients.
Global Reach – Increasing traffic on your website
VR in real estate makes the distance irrelevant. The implementation of virtual tours of real estate gives the chance to outreach the local community and, at the same time, to increase traffic on the website. Now, not only local clients can get hold of the best offer. 
By increasing the coverage of services and presenting properties to long-distance buyers through virtual tours, real estate agents can expand their client base. As a result, they have more inquiries to handle and a real chance to generate more leads that can be converted into real customers.
Engagement – building emotional connections
Once you manage to reach out to a broader base of clients you need to keep them interested. Photos and texts are not enough to grab people's attention for longer. However, virtual tours of real estate are a powerful tool that will engage website visitors. 
First of all, real estate virtual tours help people experience the property and visualize the place as their future home, which leads to building a stronger emotional bond with a place. Secondly, VR tools are interactive by nature. As people will enjoy touring properties virtually, they will  be also willing to spend time on the site to view more properties.
Furthermore, spending time is like spending money. It's a sort of investment. The more time you invest, the more likely you will become a client. Therefore, people who made a virtual real estate tour can be more easily turned into serious clients, as they consider time spent on the website as an investment, which would be a pity to waste. And as a result, they feel obliged to contact you. 
Marketing & Branding – Building trust and competitiveness
Thanks to virtual tours of real estate, buyers don't have to rely solely on photos to imagine how the property actually looks. When watching mere images, clients might feel as if they see just sweet spots. VR real estate tours give buyers more autonomy in discovering properties. People have more chances to explore the space single-handedly, and consequently get the right feeling of the place. 
Hence, virtual tours of real estate can make a listing reliable, strengthening credibility. Implementing virtual real estate tours can positively affect the perception of the brand by the customers, building trust and positive image of the company.
It takes time to create 3d virtual house tours, but it pays off because VR tours can be used as marketing material in many channels. Virtual real estate tours make up an attractive content to be sent through newsletters or published on social media allowing you to stand out from the competition on the market.
Virtual tours of real estate: Enhancing the Home-Buying Experience – Key takeaway
Virtual tours of real estate provide true added value serving the interests of both home sellers and home buyers. They are a powerful tool giving real estate professionals a solid advantage in a competitive market. As shown above, VR tours manage to present property features in the best possible way by emulating real property viewing and allow real estate agents for better time and resource management from the comfort of the office. 
From the perspective of home buyers, virtual tours of real estate are beneficial too. Being guided through a property with a virtual tour, people can take the time to explore all features of the building and avoid unnecessary travels to visit each property in person. 
If you are interested in implementing VR technology or creating any proptech solutions, contact us and tell us more about your idea. We have a lot of experience in developing software for the real estate industry.
You may like to read:
What is the importance of software in real estate?
Property Management Software: How to Find the Best Match?
PropTech: The Real Estate Industry is Going Digital
RPA in real estate: How to leverage automation?