Give your business a boost by building a dedicated

mobile application

that delights your customers and helps your staff to be more efficient.
Let's work together!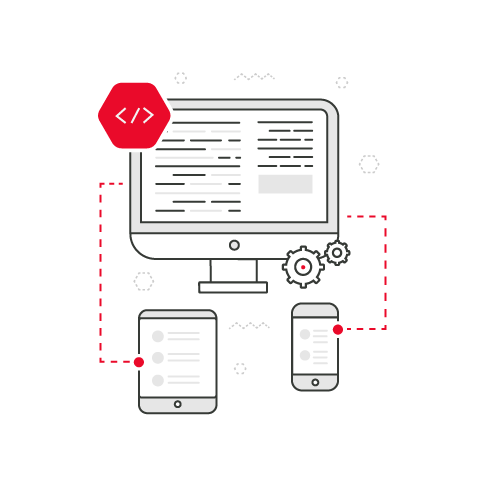 We have delivered mobile apps for sectors ranging from financial services and retail to automotive and government. Thanks to more than a decade of

experience in mobile app development

, our team can assist you in the most demanding mobile app development projects.
Transform your idea into a scalable and fully secure application delivered on mobile devices such as smartphones, tablets, and wearables. We know what it takes to build a successful mobile application for Android and iOS or take advantage of cross-platform mobile development technologies to achieve a balance between performance and cost. Are you looking for a team of seasoned developers to build a mobile app for your business?
Why does your business need a mobile app?
Team up with Concise Software
Our mobile development teams have many years of experience in using different technologies to deliver various mobile applications.
We use both innovative approaches and battle-tested solutions to speed up the development process, make it more cost-effective, and verify that your mobile application had everything it needs to offer a great experience to the end-users.
Let's work together!
Our Mobile App Development Services
What to expect during our collaboration?
Step 1: Pre-kickoff email
We always start a new collaboration by sending our clients a message with all the crucial project information and guidelines. This helps us start the project quickly and set it on the right path from the start. 
Step 2: Weekly status calls
These weekly calls are attended by the entire team or just the team leader. Their objective is to review the project's progress and set the goals and priorities for the following week. This keeps you up to date with the work in the project and helps us deal with any potential changes that need to be applied to your mobile application.
Step 3: Documentation and resources
We use Confluence to store all the key resources, documentation, and other important information related to the project. This space serves as a single source of truth for our team and helps to keep all the project stakeholders – including our clients – on the same page.
Step 4: Project management platform
Our teams use Jira to categorize tasks by sprints, store task-related information, and prioritize tasks. We give our clients access to Jira to keep them informed about the current project's workflow, the tasks in the backlog, and information about individual tasks.
Step 5: Smooth communication
We use Slack for our daily communication and invite our clients to a dedicated private channel created just for their project. You can use Slack to easily communicate with our development team and other specialists. This is a perfect tool for asking questions or sending your quick feedback.
Step 6: Regular reporting
We deliver a business report once a month and a technical report once per sprint to keep you updated about both sides of the project. We believe that full transparency is a key requirement for delivering a successful mobile app development project.
Are you looking for seasoned software developers who know how to build amazing mobile applications?
Get in touch with us
Any questions about mobile app development?
Let's check our FAQ or feel free to contact us!
1. What is a mobile application?
Today, consumers use their smartphones 58 times a day. During the last decade, the number of smartphones in use exceeded 3.5 billion.
Every year, consumers spend millions of dollars on purchasing new mobile devices such as smartphones, tablets, and wearables. It's simple – smartphones simplify their life. Consumers use them to communicate with family and colleagues, buy products and services, or become more productive in their daily work.
Mobile devices offer businesses a wide range of benefits such as new opportunities for advertising, branding, engaging their target audience, and even getting in-depth data analytics about customers. That's why they invest in mobile applications.
A mobile application is an application designed and developed with mobile devices in mind. Most of the time, this means smartphones and tablets – although the wearables market is growing fast as well.
Note that a mobile application can also work in non-mobile environments. For example, by using cross-platform or hybrid app development technology, you can build an application that works both in mobile and web contexts.
2. What are the types of mobile applications?
Business applications
Organizations develop multipurpose business mobile apps depending on their area of activity. They usually appreciate universal and specialized features that help to easily manage the business, optimize work processes, collaborate, and perform a wide range of activities, including:
Sorting, storing and transferring data,
Planning and scheduling tasks,
Operating on office documents,
Providing information support of laws, taxes, and other,
Managing accounts and personnel,
Aggregating business information.
Marketing applications
Another area where mobile applications serve a key role is business marketing. Any company that has partners and clients will need this type of app. Marketing apps help to:
Advertise new products,
Work with social networks,
Collect statistics and carry out analytics,
Processes images and videos,
Fill communities with content,
Track brand monitoring,
Send newsletters using messaging apps or other communication channels.
Personal use apps
If an app solves the problem and has features that are useful and necessary for people, it's bound to become successful. A business looking to assist its customers in their personal life can go for the following types of apps:
Educational apps (applications for learning languages or mastering new skills),
Personality and psychological apps and tests,
Motivation apps,
Dietary and sports apps,
Personal finance management apps,
Home accounting solutions,
Shopping and task planners.