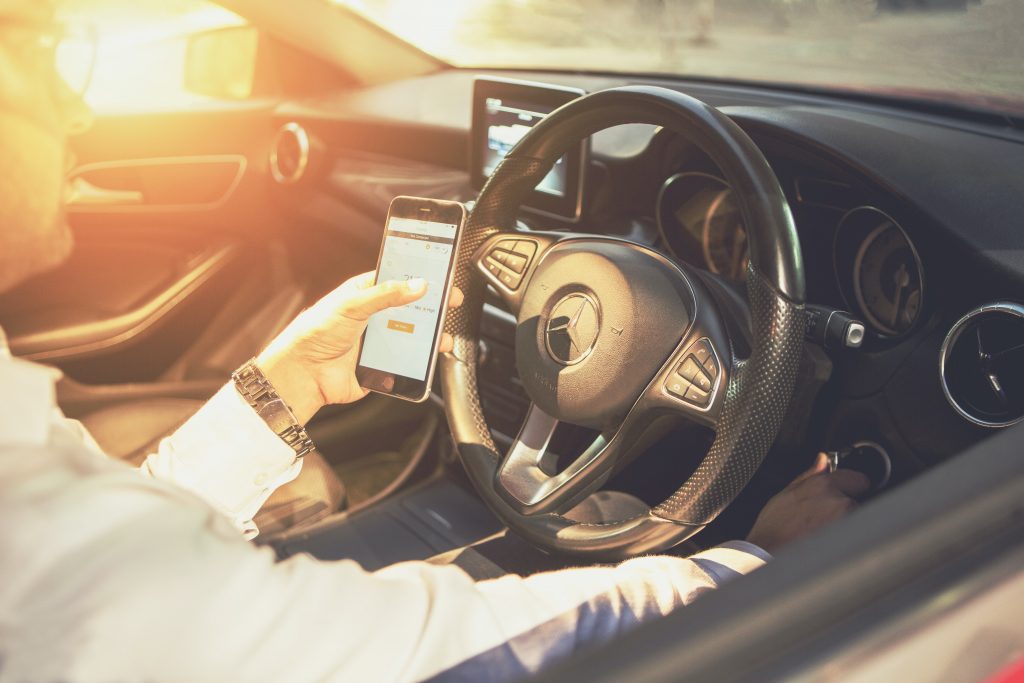 Different approaches to building car apps
Creating car apps seems like a very difficult task. Of course, it is not the easiest one, but with some rules, it may turn out to be easier than we thought. Check out what is important when creating a car app that will use IoT components.
As indicated by data from Technavio, the car apps market will grow 18 percent by 2022. Of course, these increases may be somewhat smaller due to the SARS-CoV-2 coronavirus pandemic, lower passenger car buying momentum, and lower production capacity among major vehicle manufacturers. Nevertheless, new passenger car solutions, including those tied to IoT, are coming to market all the time. Just a decade ago, cars exchanging information within a single network was something that seemed very futuristic. Today, thanks to 5G connectivity, advanced work on various levels of vehicle autonomy, and an automotive market focused on innovation, among other things, it no longer surprises anyone. Factory-fitted new cars are equipped with a host of advanced technologies that allow you to take advantage of instant communication between vehicles. You can be sure that car apps are the direction to follow. If you have the right idea, you can be sure that the market will positively verify it.
Why invest in development of car apps?
The positive economic climate and the rapid growth of the IT industry within the automotive market make car apps very attractive from a business perspective. Consumers are showing great demand for technologies that improve the use of cars – not only cars but also trucks. Also the growing importance of alternative forms of vehicle propulsion positively influences entities that intend to introduce innovations based on solutions from the IT market into vehicles. The demand for software is huge – and so is the demand for IoT solutions. Moreover, recent deployments of 5G networks have made the creation of car apps even more accessible to interested companies. Access to know-how and experience in this area is a problem, but it is not an impossible thing to achieve. The activity of subcontractors in the software development industry makes the possibility of creating a car app available to almost everyone – from a large company that has a great idea, resources – in the absence of the aforementioned know-how to a startup that needs support in creating a perfectly working solution. 
Additionally, by 2022, the IoT car apps market could even be worth over $82 billion. These numbers will grow every year – consumers, companies closely connected to the automotive market will be more and more willing to pay for innovative solutions. It is also worth keeping in mind that the majority of vehicles currently on the roads can be equipped with IoT solutions connected with car apps. Many such projects are based on access to OBDII diagnostic connectors, which became a standard after 2000. Such a connector allows access to the most important parameters of the vehicle's operation – from engine temperature to monitoring the fuel combustion process in the pistons, reading values from oxygen sensors. Car apps, by retrofitting the vehicle with, among other things, GPS connectivity and many other accessories, allow you to increase the capabilities of the car, allow you to more accurately monitor important functions. Thinking about IoT car apps using diagnostic connectors, one can be sure that a huge part of the market can be taken by such innovation – it is difficult to find a car on the road in which OBD II connector has not been installed. 
What is a "connected car"?
To better understand the problem described above, it is useful to refer to the concept of "connected car". What is such a vehicle? It is difficult to make a clear definition, but we can assume that it is a car, which is connected to the network on the level of issues, which strictly concern its functioning. The idea behind connected cars is to exchange data to improve comfort or safety of all network participants or a specific platform, or to transfer data to the infrastructure used by all vehicles. Just as cell phone apps use telemetry to identify specific events (a good example here would be traffic jam recognition in Google Maps – when multiple devices using these maps are not moving, artificial intelligence recognizes a traffic jam on the road), IoT car apps can use data to flag hazards, automatically report accidents, and much, much more. When the OBD II port is used in a particular product, it is possible, among other things, to monitor the technical condition of the car, to identify faults on its own, to inform the user about necessary service activities or to indicate services that will definitely cope with the task resulting from a particular failure. 
The idea of "connected car" also indicates some ways of communication of the vehicle. Several approaches are used in this matter:
– V2X: Vehicle to Everything – this type of communication assumes that the car communicates with various devices as well as entities within extended platforms. 
– V2V: Vehicle to Vehicle – communication within the car app takes place between vehicles. The vehicles exchange information about obstacles on the road, recognized hazards, conditions, and so on.
– V2C: Vehicle to Cloud – the vehicle communicates within the IoT car app with the cloud, where calculations take place to recognize the probability of specific events, for example, the risk of a specific component failing. 
– V2P: Vehicle to Pedestrians – a car equipped with an appropriate solution communicates with pedestrians – smartphones make their location available to vehicles in the vicinity and thus, inform them to watch out for them on the road
Very often it happens that an application uses more than one type of vehicle communication and combines, for example, sending data to the cloud and to other cars on the road. How such communication will look like depends mainly on what purpose the app will be used for and what are the needs of the consumers it is aimed at. More and more attention is being paid to the V2X approach, where virtually all possible forms of communication between a car and other devices are combined – believing that a car app should be as universal as possible. 
Read more: The future of connected cars
Car app development: what you need to know
What do you need to keep in mind when developing a car app? There are certain rules to follow during such a process. Every project is different and the next steps during its construction may differ. However, you must know that without certain things, your car app will have no chance of success or will be poorly received in the market. Moreover, there are many ways to create a car app. Some may be strictly about the cell phone and it will be where all the features will be focused. Others will additionally (or only) use connectivity with OBDII – the communication interface in cars. 
As you create the MVP of your automotive application, it's a good idea to consider the issues of user communication with the program. Car apps are aimed at drivers, so it's desirable that the app distracts them as little as possible while they're driving, and allows for seamless operation. It's worth remembering that in many countries, the use of cell phones while driving is prohibited – and that's even when using interfaces dedicated to drivers! To solve this issue, it is worth using voice communication with the application. The user will be able to enter commands by "talking" to the program, preferably using natural language. 
An interesting inspiration can be the Android Auto interface from Google: using Google Assistant it is possible to control the multimedia system in the car. The user can turn down the music, switch on specific programs, make phone calls, control air conditioning – without taking his eyes off the road. When creating a car app that will be used while driving, it is extremely important that the driver is not distracted in any way. It is worth taking care that the notifications and the way of operation are as little inconvenient as possible. 
When creating a car app you should also bear in mind that it is absolutely forbidden to place mechanisms that run, for example, video content, the need to manually enter text, or any games. As we mentioned above – the touch control should be very economical and currently, the most important trend is the introduction of commands by voice. 
What about design in the car app? In the case of such apps, the main focus is on minimalism. However, this does not mean that the program should be characterized by a visually unattractive interface. It should be as simple as possible. In the case of applications that can be run in the Android Auto interface, there are guidelines to follow. The developer, in the course of creating such an application, must adapt his program to the requirements that Google has constructed. They have been created in order to make the use of such applications as safe as possible. 
In case of car apps, the possibility of remote control should also be taken into account. The market currently offers great opportunities for the development of programs written with cars in mind. Among other things, it is worth considering remote operation of the car, if it is possible and necessary. If you use a device that connects to the OBDII interface, this is an extremely useful feature. Many car manufacturers open up the API to developers, making it possible to create extremely interesting, innovative projects. And ultimately – application security. Car apps are projects that, if poorly secured or written, can be dangerous for the driver and passengers. Proper app security and the ability to set different permissions for users is an extremely important issue. When developing a car app, you can't skimp on testing – especially tests that are designed to check the safety of the program. 
Demand for car apps is still growing
When creating solutions in the form of car apps, it is worth keeping in mind the constantly growing demand for such software. This positive trend for startups and businesses will continue for years – the automotive market is strongly based on technological development. It is worth noting the relationship between new technologies and the automotive industry – one industry affects the direction that the other follows. It is a relationship worth remembering. 
In the ever-changing automotive market it is worth to be as a business or a startup. With a good idea you can achieve great success and gain engaged users. A good idea is the beginning of the road to making automotive software that will change people's lives for the better. The automotive industry offers amazing opportunities and it is worth taking advantage of them. At Concise Software we know what potential lies in the automotive industry and how to move forward in it. We also know what is important and what standards need to be met so that the software meets the expectations of customers and users. 
Every business and every startup knows very well what opportunities are hidden behind the automotive industry. However, it is worth taking care that the software which is being created – is of the highest quality. So that it meets the expectations of customers who will use it. In addition to the advice we described above, the right processes, specialized staff of programmers, UX/UI specialists, marketing, graphic designers are also important. Success is the work of teams and they have the final say on the design. 
We believe that the above advice is a list of good practices that should be followed while creating software for cars and drivers. An idea, properly created software and proper marketing care – all this speaks in favor of every project within the automotive industry. We wish you good luck with your automotive software development! 
You may like to read:
Infotainment system in car – the future of the automotive market
Key features to be considered when developing a car rental app
Car safety systems – caring about us every day
Connected cars – What will the car of the future look like?
Car infotainment systems – what's inside your car's "brain"?
Why should companies invest in car sharing apps?
Why is software so useful in automotive?
Why automotive software development saves lives?
How Software Development Is Transforming the Future of Automotive