Meet the Cheers App!  User-friendly events management app – all is simple, fast, and clear.
Challenge
To promote alcoholic brands without paying penalty due to imposed prohibitions on an advertisement

Competition between brands is very high

Habits of the local community to drink a certain type of alcohol/brand name (bound) 

Lack of recommendation/testimonial of drinkers

It's much easier to promote well-known brands than the new ones
Numerous regulations, a high level of customer loyalty to brands to which they are accustomed, a downward trend in the volume of alcoholic beverages consumed. These are only a few of the factors that make the work of a marketer in the alcohol industry require a higher level of initiation.
Solution
Brand positioning in the premium segment, 

Proper care for the design of packaging,

Presence at exclusive events and elegant bars are the future via the Cheers app
Such an approach is an effect not only of a rich society but also of a change in consumer habits, which is visible in practically every FMCG study – quality begins to win over price!
Cheers at a glance
Cheers App enables C2C (consumer to consumer) and B2C (business to consumer) to create events easily, without any 3rd-party platforms. It's an easy way to increase your brand or product recognition, reach a young audience and benefit from existing communities in a natural way.
We made a simple app that allows people to get together without any calls, calendar notifications, and all the needless things other apps and social platforms use. Nowadays there are millions of users tired of getting lost with all Facebook notifications and invitations from people they don't know, weird events visibility, reach depends on the algorithm, and all distractions that make them feel overwhelmed. 
With Cheers, they can benefit from the easy app with user-friendly events management – all is simple, fast, and clear.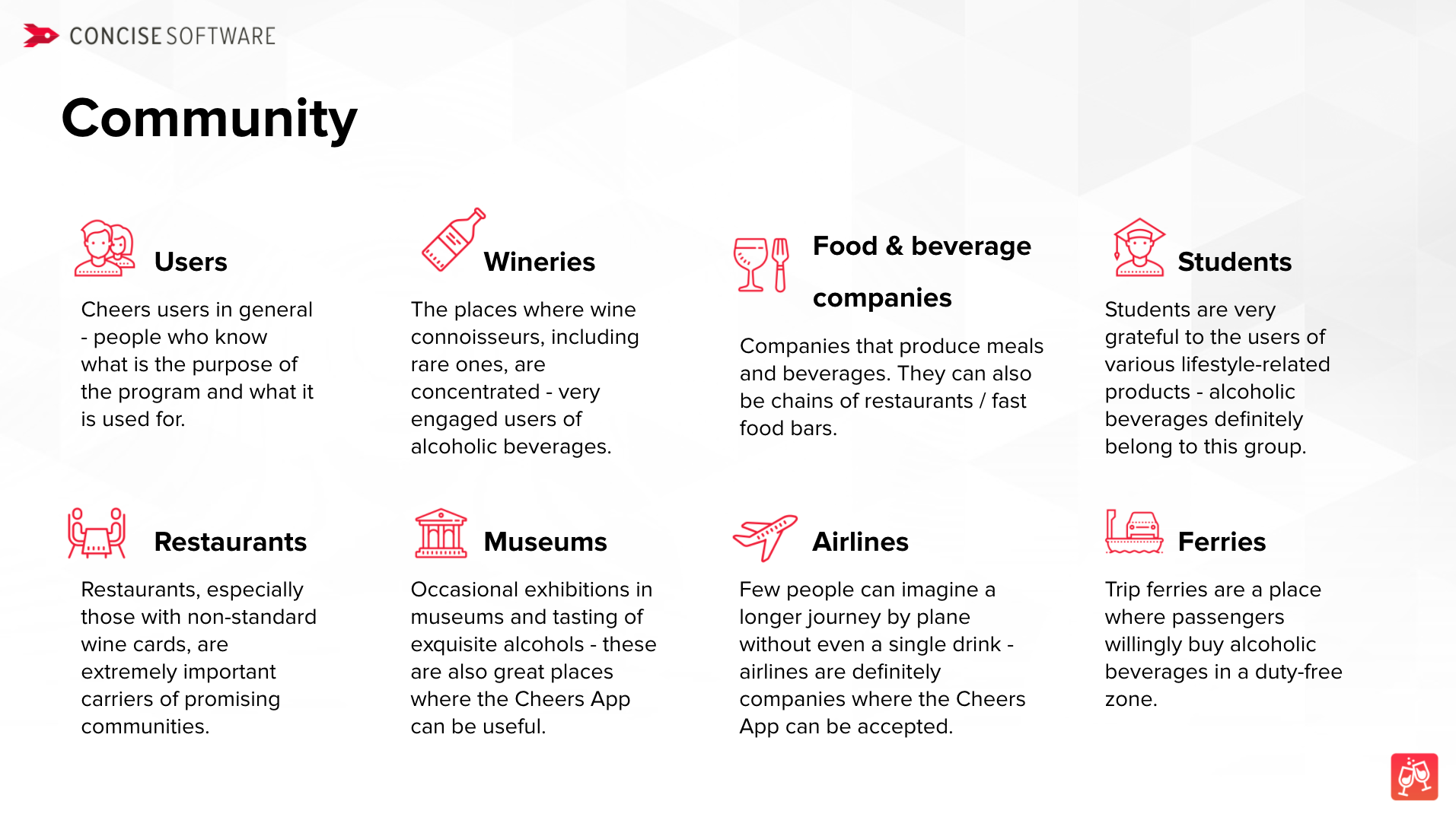 Target groups
Generations Y and Z
Young people, born in the "Age of the Internet" – generations Y and Z. For those generations, mobile apps are natural tools using in communication and social life. 
early adopters willing to try new things

digital natives who love technology and all things mobile

the single largest media audience segment accounting for 26% of all people in the U.S.

the dominant group of smartphone users (people aged 19–21)

Generation Y and Z wants to stay connected
According to reports, 65% of Millennials and Generation Z interact more through phones and apps than in real life.
Conference attendees
Industry conferences, especially bigger ones, are a great logistic and networking challenge. Persons participating in such events are very willing to participate in direct meetings, but before that, they have to make an appointment for a specific day and time, due to the enormous dynamics of industry conferences.  
These types of events are attended by marketing managers, brand managers, marketing managers, and entities managing such events.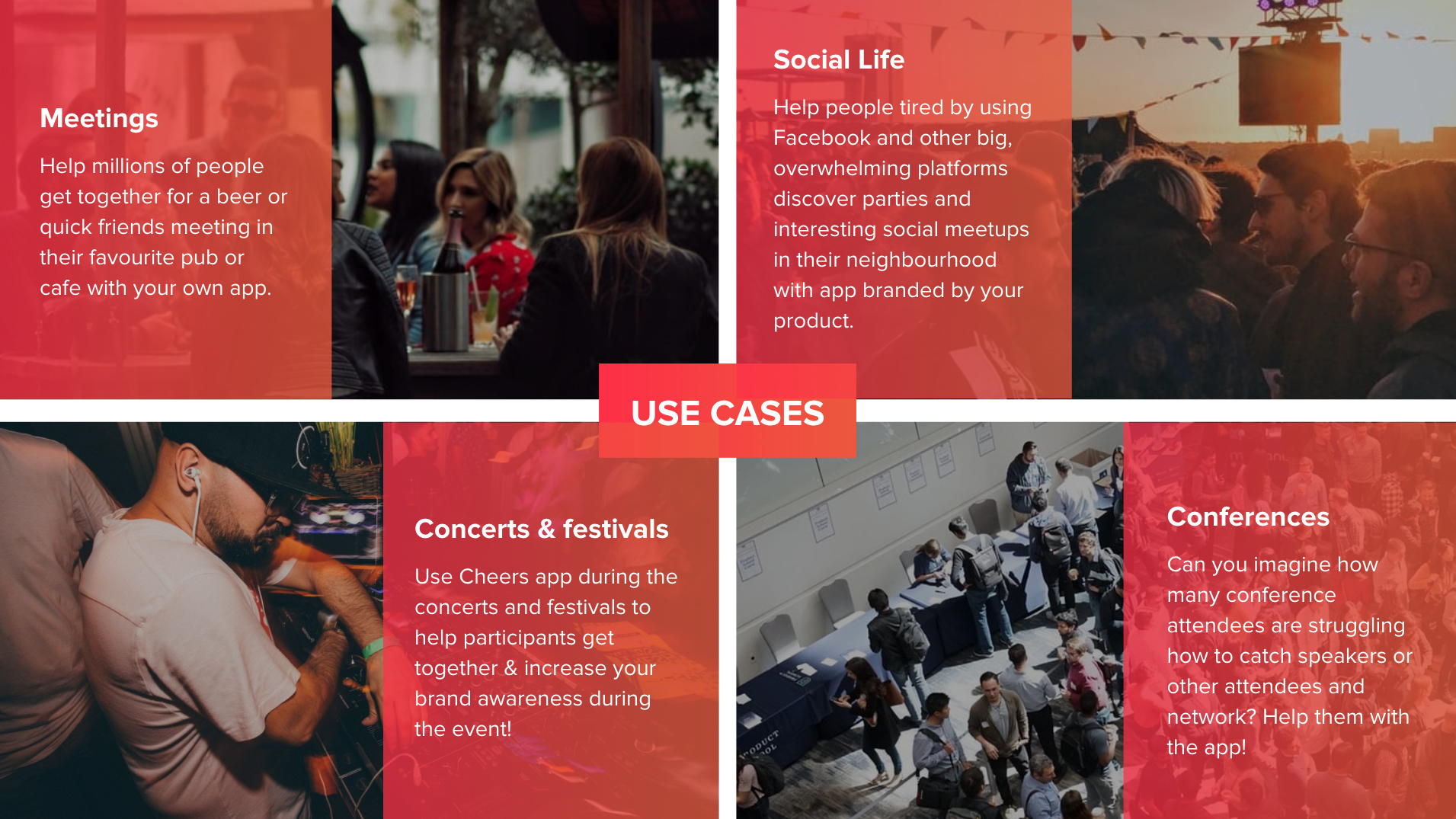 Value-added
increase your brand/product recognition

benefit from an already existing community

reach a mainly young audience, even interact

through push notifications

position yourself as a cool company understanding Generation Y

and most importantly: it's not just a one-time ad or marketing gag but a really useful tool people use and love

An application with social components: it supports the exchange of recordings e.g. from the premises during the preparation of drinks by the bartender.




Extensive content marketing in the mobile application – users can create interesting videos that engage others in social media (e.g. shots from the club).




Opportunity to promote for event creators – with the help of Cheers App, organizers of mass events can more strongly promote their own events
White labeling
Cheers App is adapted to white labeling – we can implement your custom design (e.g. your branding, icons, content, logo etc.) and change the app design to fit in with your vision. We can also add personal pages  in an existing application, for example:
About page

Products page

Events page

Challenge page

Contact page
To meet your business goals – from brand awareness to increasing sales and conversions.