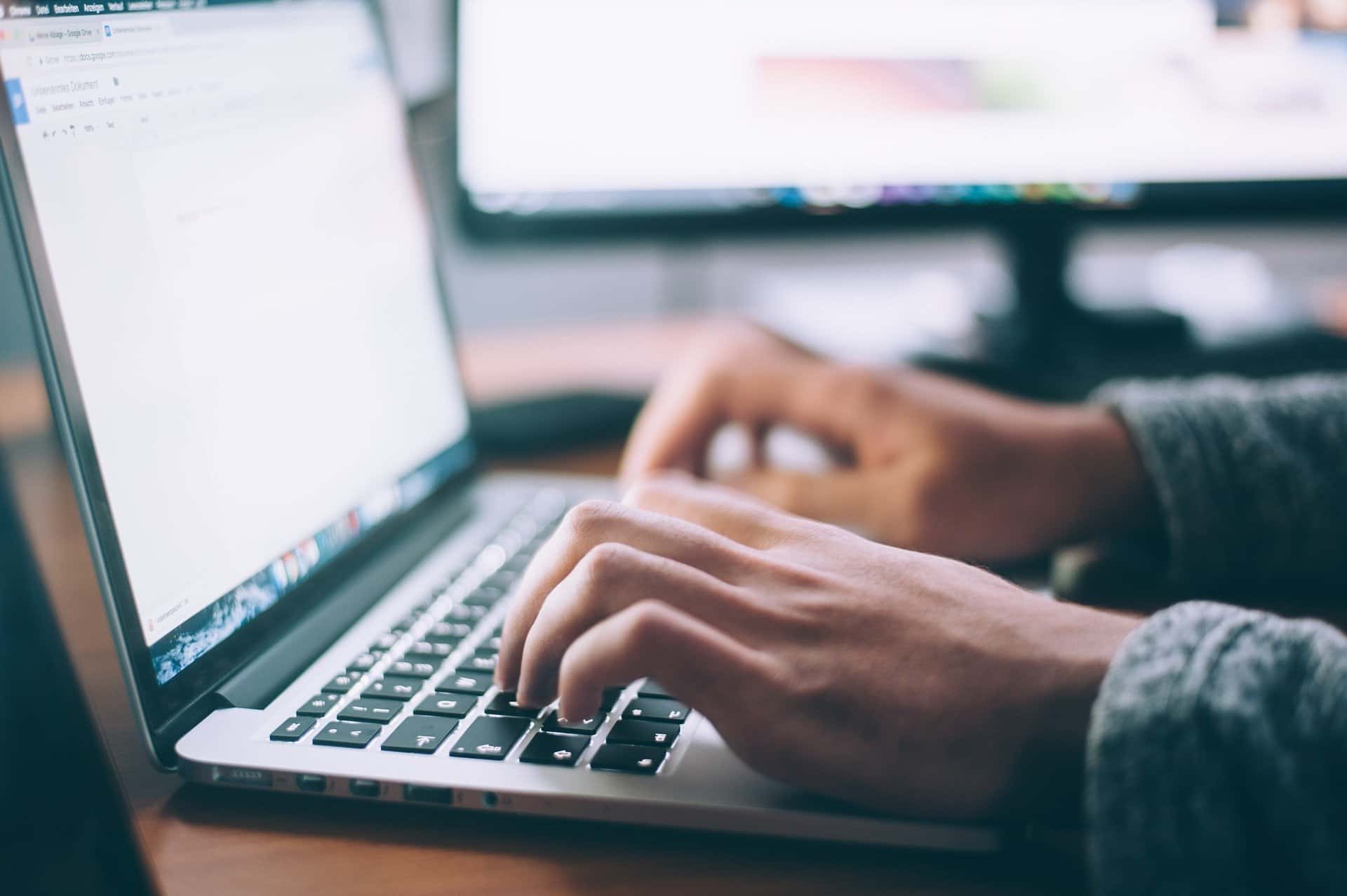 Software development outsourcing – is it worth it?
Is software development outsourcing something to look out for? Definitely yes – the software development market has changed over the years and offers many flexible forms of cooperation with companies such as software houses. Experienced and qualified employees are a great value in cooperation with such places – here is what you should know about it! 
Outsourcing software development is something to consider when you urgently need to create a specific product without engaging your own resources, or when you lack the experience and knowledge to do so. Software houses nowadays are companies that often also deal with marketing, conduct workshop sessions with clients and advise on business issues. All this is done in order for the client to achieve the desired success on the market – and for his/her service or product to develop. Software houses also care about this very much – the success of a particular solution is also a success for the software house: something to boast about. Hence, we are dealing with companies which, apart from creating software, combine many areas to make the client as happy as possible with the cooperation. 
Now that all major industries have started to implement digitization, there has been an unprecedented demand for software development. But with that comes the question of how to do it well and gain a competitive advantage. Since not all industries are well-funded to have their own software development team, many small businesses and established organizations are opting to outsource software development services. Moreover, even for those that can, creating and maintaining an in-house team is a task in itself.
Software development outsourcing in data
According to Statista's survey on the most outsourced IT functions, software development is the most commonly outsourced IT function. About 64% of respondents have outsourced application development services. Looking at such strong statistics, the demand for outsourcing software development services is expected to grow as more companies prefer digitization and look for ways to optimize their business processes.
But before you decide to outsource software development, you need to have a complete understanding of it and the benefits it can offer to your business. Simply put, software development outsourcing refers to delegating your software development processes to a third-party service provider who is qualified and skilled to do the job for you. To get effective results, it is important to analyze your business functions and choose the best business processes to outsource. In addition, delegating allows you to perform tasks related to your core competencies efficiently. It will also help companies to keep their strategies and progress on track.
Software development outsourcing make sense
In case of software development outsourcing, the services are provided in remote working models that allow client companies to join hands with the best IT professionals who will work on their projects with dedication. Outsourcing software development services to experts has the benefit of focusing on growth while improving efficiency and reducing risk. Software development encompasses a wide range of services including application development, software integration and data analysis. Many companies can't afford to hire their own team of developers, and many IT departments are overloaded, so hiring a third party can make sense.
As we mentioned in the above section, companies choose to outsource software development to increase productivity and profits. A software development agency has experience in technology. As professionals, they can provide better, faster and cheaper features than the hiring company.
Hiring an outsourcing company can bring more benefits such as knowledge and experience

For example, a small business doesn't have to waste time building an internal team of developers. Instead, it will have time to focus on its core capability. Besides, by outsourcing a software development agency, small businesses can save some costs because they cannot afford to hire full-time programmers or their own team. In some cases, other companies will need additional technical support during busy seasons. Outsourcing provides them with additional flexibility to handle follow-up requests. Issues to consider when deciding to outsource IT services vs. the current state of software development – you need to learn about the different types of software outsourcing services and engagement models that are available to meet your needs.
When talking about software outsourcing in 2022, typical services often include mobile app and website development services, as well as other high-tech and innovative artificial intelligence and blockchain technologies – which are filling their niches in the IT industry and are expected to have a significant impact in the future. Additionally, many software outsourcing agencies offer a full portfolio of services that customize to meet the many ranges of their clients' specific business requirements, at each stage of the project as well as throughout the development cycle.
Does outsourcing software development work? Key advantages of software development outsourcing
The main purpose of outsourcing is to increase company efficiency. By directing some of the tasks to an independent contractor, the company has time to devote attention to the activities that are crucial. We also get help from people with very specialized competencies that would sometimes be hard to reach otherwise. Outsourcing works great also for small companies and startups – thanks to the participation of specialists there is a chance for rapid development and emergence on the market.  Yet another argument in favor of outsourcing, and related to the above, is the situation on the labor market, namely the shortage of specialists. Thanks to delegating part of the tasks, the company does not have to recruit and worry about retaining experts – this burden falls on its external partner. The advantage of outsourcing is also a cost reduction. Deciding on this solution, we buy a ready-made idea, which is "tailor-made". We do not have to think about the cost of equipment, its exploitation, software, employee training, office space. Sometimes it turns out that the company does not pay to have even a small IT team, because outsourcing generates much lower costs – it allows to reduce the cost of IT infrastructure even by 25% while maintaining its high quality.
Companies often outsource the software development process because they don't have the skills or resources they need in-house. Outsourcing provides access to local and global experts such as web developers, IOS developers, designers, and data analysts that may not be available in-house. For short-term projects, it is inefficient to hire new staff as there are costs associated with maintaining an additional employee. Outsourcing provides flexibility as you can always hire employees as per your requirements. As requirements arise, outsource a specific project and eliminate the costs associated with it. For short term projects, it is inefficient to hire new employees as there are costs associated with maintaining an additional employee. Outsourcing provides flexibility as you can always hire employees as per your requirements. As requirements arise, outsource a specific project and eliminate the costs associated with it.
In case of outsourcing and software house, it takes full responsibility for its actions. It needs to maintain its reputation and image, and its experience and credentials are easy to verify. Similarly, with the availability – in case of illness of "our" employee, we are left without IT support, which is unlikely to happen when we use outsourcing. Especially that some IT companies offer a permanent, 24-hour care. In addition, if there is a sudden failure, we can not always expect a response from our own IT specialist. In the case of an external company, provisions for immediate response are a common and beneficial practice. This is because they allow to protect and maintain the continuity of key business processes.
Another argument in favor of outsourcing is the flexibility of cooperation. Its terms and conditions can be individually determined in accordance with the real needs of our business, as well as modified during the term of the contract and developed in parallel with the growth of the company. This may not be the rule, but using IT outsourcing, we will also go away costs associated with the service of technological innovations. When hiring an IT specialist, we have to provide him with all the tools from our own resources. In the case of cooperation with an external company, not necessarily.
Several emerging technologies such as the Internet of Things (IoT), artificial intelligence/machine learning, 5G connectivity and blockchain are accelerating change in organizations that have the ambition and skills to embrace them. An experienced outsourcer can provide the technical expertise needed to create applications with futuristic approaches. Outsourcing will also help with unique business needs such as software development with the latest technologies. A software development outsourcing company helps to manage development costs more efficiently. 
Have we convinced you? Outsourcing of software development is a huge opportunity for you and your business! 
At Concise Software, we believe that trust is the most important value. This is what we do every day – you can always rely on our employees – no matter what we do. We work with some of the biggest brands in the world, delivering one of our most important values – a better, more integrated world. This has been our mission since we started and will continue to be our mission. 
If you need to outsource your company's software development process – we'll show you how to do it in the best way for you. Over the years we have developed procedures that we use in cooperation with many of our clients. They are a guarantee of security no matter what project we are working on. You can fully trust us. Contact us today and tell us about your idea. Let's create something amazing together – something that will become the reason why the world is a better place!
This may interest you:
What's the software development process (and how it looks like)
Developing a Minimum Viable Product? Here's a 3-Point MVP Checklist
Website development cost – how to estimate web development projects?
How to set a software project budget?
How to estimate product backlog effectively
Everything you need to know about Sprints in project management
Project Manager Roles and Responsibilities in a software project
Product Owner Roles & Responsibilities for Software Projects
Thinking about the MVP? RAT could be much better