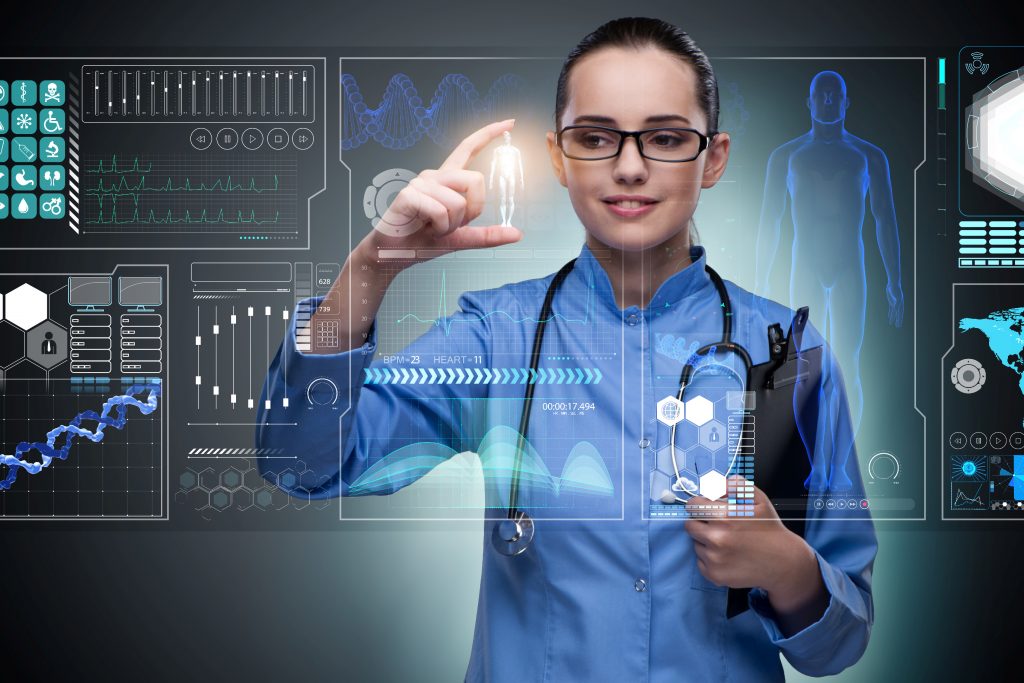 Predictive Analytics in Healthcare – Staying One Step Ahead of Emergency
Predictive Analytics is a field of study that has been much discussed in healthcare. Many companies are creating environments for artificial intelligence in medicine, and there are startups that are excelling at implementing analytics solutions. Why is it important to use new technologies to treat people? It turns out that predictive healthcare analytics has a huge advantage here when it comes to analyzing large amounts of data.
What in a nutshell is predictive analytics? And how is it used in healthcare? Predictive healthcare analytics is the use of machine learning, artificial intelligence, and all forms of data analytics, which can help not only diagnose, but also predict the onset of certain diseases and conditions. 
The body is a piece of machinery that only works efficiently when everything is in order. There are, however, some diseases that go unnoticed for a very long time –  early in ther progression they are impossible to detect during standard examinations. Patients after receiving the diagnosis are often surprised that they are sick – after all, they were tested before. However, there are some conditions that are difficult to detect even within these more elaborate protocols associated with diagnosing them. Applying predictive analytics in healthcare can be a great way to avoid these situations.
The future of predictive healthcare analytics
Thanks to predictive analytics tools it is possible to access and analyze a large amount of patient data – all the tests conducted and the records kept by physicians – to improve diagnosis and reduce time to access healthcare. The benefits are tangible. It is worth taking advantage of them as soon as possible. This market is growing faster and faster. 
Rising costs, an aging population, and the prevalence of chronic disease are transforming the healthcare industry. Global healthcare spending is projected to reach an unheard of $18.3 trillion by 2030. In response to these trends, payment models are already shifting from volume-related to outcome- or value-related models.
Predictive analytics helps healthcare organizations adapt to these new models while enabling improved patient care and outcomes. From predicting critical conditions such as septic shock and heart failure to preventing readmissions, recent advances in big data analytics and AI are driving new predictive analytics solutions that help physicians improve outcomes and reduce costs. Therefore, it is worth investing in predictive analytics in healthcare. This is the direction in which the market will change. 
The wealth of predictive insights
Healthcare has been digitized and is creating massive new data sets. These include electronic medical record systems, health claims data, radiology images and lab results. Genomic data will also increase significantly in the near future.
New data is also being generated by the growing number of medical devices on the shore, including electronic patient accessories and monitoring devices. Outside of healthcare facilities, patients are generating peri-health data using wearable electronic accessories, fitness monitoring devices, and health apps.
Read more: Wearable Devices – Embracing Technology for Better Patient Care
By leveraging data from these sources, healthcare providers are driving new solutions in predictive analytics for medical diagnosis, predictive modeling of health risks, and even prescriptive analytics for precision medicine.
However, turning data into clinical outcomes requires a hardware and software foundation designed to extract value from diverse data sets. One study found that more than half of healthcare organizations do not have a comprehensive data management plan. As a result, a significant amount of healthcare data remains unused.
Based on the initial examination of the patient, the system can suggest to the doctor the most likely disease, appropriate procedures and suggest the choice of medication. By picking out patterns and making correlations through machine learning, the doctor's efficiency increases so that he can see more patients.
Benefits of predictive analytics
By analyzing historical cases, it is possible to define patterns and, based on them, scenarios. This allows the doctor to apply alternative treatment when the primary treatment is ineffective. For example – a lung cancer patient for whom chemotherapy does not work can be given an alternative treatment that worked in a similar case in another patient. An alternative treatment pathway that has worked in a similar case gives the patient hope and a better chance of cure.
Data mining also allows you to forecast future events, such as epidemics. If the weather is inclement and flu cases begin to appear in clinics, an increase in cases can be predicted. This awareness by clinics allows them to inform the public about viruses spreading in the environment. Forecasting also reduces the time it takes to produce the right medicine for more severe cases, which can save hundreds of lives from early death.
Processing of x-rays or ultrasound images by the system gives the ability to identify cancer cells. The doctor will be alerted to changes that are taking place or may take place in the patient's body if he or she does not take appropriate steps. This solution is useful especially when the doctor is overtired and overloaded with responsibilities. In such a state, he is not always able to catch the changes visible in the images, and with the help of machine learning comes.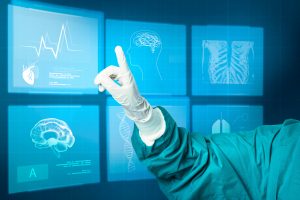 By analyzing hundreds of thousands of cases, today's solutions can also help predict the effects of a treatment or the likelihood of a patient's complete recovery. Modern technologies in medicine are increasingly used and developed. Hospitals around the world are expected to invest a total of $2 billion each year on research into the use of artificial intelligence in imaging diagnosis. The implementation of the above mentioned innovations would solve major problems faced by hospitals around the world.
More accurate and faster diagnosis, prognosis and trends guarantee faster service of a patient by a doctor, increase work efficiency and reduce the number of diseases. All this leads to a smaller number of patients in hospitals and relieves the hospital infrastructure. As a result, medical facilities can accommodate more patients while increasing service levels. Hospitals and medical facilities are currently grappling with the implementation of electronic medical records into their systems.
At the individual level, predictive analytics enables healthcare providers to provide care tailored to the patient and delivered in a timely manner. On a larger scale, it enables health systems to identify and understand broader trends, leading to improved strategies related to population health.
In one example, researchers developed a model of the spread of ebola hemorrhagic fever using big data analysis and massive amounts of data, including information from social media and search engines. People who have potentially been exposed to ebola can enter their symptoms into a mobile app that uses geographic coordinates to see if a person was near another person in the community where the ebola virus was active.
Predictive analytics not only improve the quality of care, but also significantly reduce costs. For example, more accurate predictive models for patient length of stay and readmission rates enable hospitals to avoid penalties and reduce operating costs. Through the use of electronic medical record systems and predictive analytics, healthcare providers are identifying patients who are likely to miss appointments. Once identified, such patients may receive a reminder or other assistance to show up for their appointment.
Examples of implementing predictive analytics in healthcare
The health application Ada is based on an artificial intelligence engine and has been "trained" by real doctors for six years. Besides, working with humans also contributes to its continuous improvement process, so theoretically, the more time passes, the better… well, what exactly? A doctor? No, the creators stress that their app is in no way meant to replace real doctors. Nevertheless, Ada can still be very useful.
The application is supposed to play the role of a medical companion, which, by obtaining answers to specific questions from us, tries to assess what can ail us and whether we should go to a doctor with this problem. If we had doubts, there is also an option to get a remote consultation with a real doctor – sounds convenient. And yes we all do something similar using Google, but here there is a good chance that the quality of the answers we get will be higher.
This seems very convenient precisely for the purpose of making assessments as to whether the ailment we are facing might be something serious, or whether it is something completely harmless and can be dealt with on our own. Of course, nothing can replace a visit to a real doctor, but I think that most people do not make an appointment to see a specialist for every possible ailment that they encounter.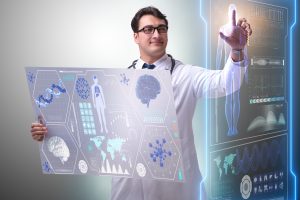 Analytics solutions and modern technologies are increasingly becoming an integral part of the healthcare system. They support doctors during the diagnosis and selection of the patient's treatment. An artificial intelligence (AI) system developed by Google proved to be as effective in analyzing the results of a mammography test as doctors with years of experience. In turn, the algorithm developed by scientists from Stanford University, within two months learned to recognize 14 diseases on the basis of lung X-rays, and with the diagnosis of pneumonia coped better than radiologists.
Conclusions
Predictive analytics in healthcare has become a key component of any medical analytics strategy. Today, it is an essential tool for measuring, aggregating, and understanding behavioral, psychological, and biomedical data that until recently was unavailable or extremely difficult to obtain.
In some segments of medicine, predictive analytics tools will become an important factor (radiology, pathomorphology), but in the case of complex procedures, the key element will still be the doctor. It will still be many years before artificial intelligence and robots become self-contained systems for complex patient treatment. However, with the rapid analysis of millions of pieces of information, doctors will have strong support to detect disease at an early stage.
Read more: Artificial Intelligence in Healthcare: Key Trend in Digital Transformation
So it turns out that predictive analytics in healthcare is the direction to go today if you are considering what is one of the more promising markets. People want to be healthy – while technology can significantly help them do so. It's amazing how much AI, machine learning and predictive analytics tools are able to change our world!
Are you currently developing an app for healthcare? Are you thinking about creating one? Get in touch with Concise Software. We'll tell you about how we create our solutions and would love to hear about your great idea. We are here to make your dreams become realityy.
This may interest you:
Telehealth – Your Ticket to On-Demand Healthcare Services
4 benefits of Internet of Things for healthcare
The Rising Popularity of Apps for Mental Health
Virtual Reality in Healthcare – Transforming Medical Education and Patient Care
Artificial Intelligence in Healthcare: Key Trend in Digital Transformation
Big Data in Healthcare – Unlocking the Potential of Medical Records
Introduction to EHR – What are the Benefits of Electronic Health Records?
HIPAA guidelines for healthcare apps development
Your Guide to the Benefits of Telemedicine Apps
Wearable Devices: Embracing Technology for Better Patient Care
Why should we worry about healthtech? Facts and thoughts
Major medtech trends to follow in 2022 and beyond!
What are the risks in digital healthcare?