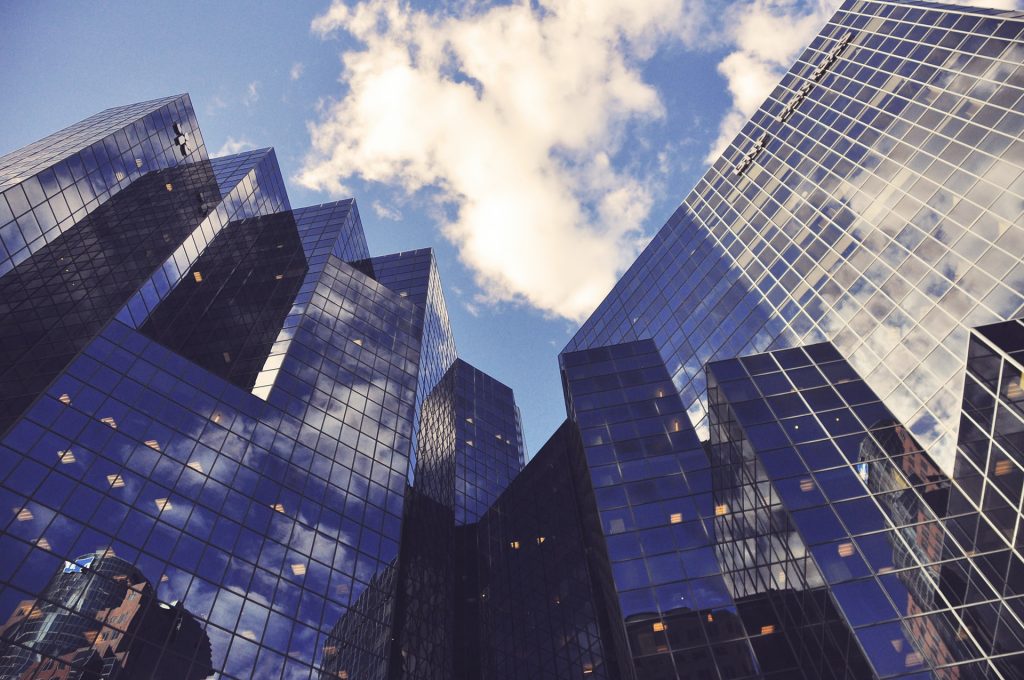 IT outsourcing in the times of COVID-19. What you need to know?
IT outsourcing is an extremely important branch of the technology market – constantly gaining in importance and offering great opportunities for both service providers and customers. How is this market changing in the face of the COVID-19 pandemic? We have compared our experience with a very important report.
The COVID-19 pandemic, despite the availability of the vaccine, will not end quickly. The distribution of the vaccine to all regions affected by the pandemic will be a big problem. It seems that the year 2021 will also be marked by this pathogen. Due to the pandemic, the global IT market will generate 0.4 trillion less revenue than expected (4.8 trillion vs 5.2 trillion). These are huge numbers and a huge loss to the initial estimation. This means that the coronavirus pandemic had a very strong impact on the condition of businesses operating in the IT industry. Nevertheless, there is also good news. It turns out that global spending on IT services in 2021 will increase by 4.1% compared to the previous year. Such data indicate clearly: we are facing a rebound in the context of the IT market and should be prepared for it. 
Read also: Concise Software among the best blockchain developers in Poland. Huge honor from Clutch
Forecasts for global IT outsourcing market
In 2019 the market was worth 388.65 billion USD. By 2024, it will already be worth 486.16 billion USD, and by 2027… as much as 940 billion USD. These figures come from Technavio and also take into account the impact of the SARS-CoV-2 coronavirus pandemic on growth. Over the next 4 years, the IT outsourcing market is expected to grow by 5% CAGR – these are very welcome figures.
However, it is worth focusing on why the IT outsourcing market is so attractive. One of the more obvious factors is that many companies are looking for opportunities to save money. IT outsourcing allows you to optimize your expenses: IT staff recruitment, project management, infrastructure and many, many more. No wonder that this market will only grow – one can even say that the coronavirus pandemic has helped this market in some way. Many companies were looking for opportunities to save funds and directed their efforts to look for a reliable partner in the context of IT outsourcing. 
IT outsourcing is a great opportunity for markets like Poland. It is worth knowing that Concise Software is an entity created just in Poland, which feels great in cooperation with companies from around the world. It is Poland that is seen as one of the countries where IT outsourcing contractors will gain most. Among such countries is also Ukraine, a close neighbor of Poland. It is no secret that it is in the central-western part of Europe that IT service providers enjoy a huge reputation. The advantage of programmers, companies from Poland is not only the low price of services provided, but also very high quality and innovative business attitude. All this makes such companies as Concise Software equal partners in the context of IT outsourcing. We see these opportunities and want to take advantage of them. What's more, we are constantly researching the needs of our customers, whose needs are changing all the time. Being aware of these changes and reacting to them is a very important part of Concise Software's business. 
However, it is worth considering the reasons why companies are outsourcing IT. Report on this subject indicates specific needs of clients interested in IT outsourcing. 
According to report, which mentions Deloitte's survey from 2016, customers expect that IT outsourcing will bring them a tool that will enable them to cut costs of doing business. Instead of developing such a tool on your own, you can outsource it to someone else – a company that specializes in it. Moreover, thanks to IT outsourcing it is possible to focus on what is crucial for a particular business. Instead of wasting resources on IT-related tasks, you can redirect them to someone else. It is also very important that thanks to IT outsourcing it is possible to increase the quality of a given service by choosing a reliable, specialized partner. The opportunities arising from such an approach are enormous and this is also due to the experience of Concise Software.
Outsourcing is generally one of the most important approaches in establishing business relations between companies. It is worth pointing out, for example, small businesses – they usually transfer such tasks as accounting services to specialized companies. Of course, this is also outsourcing. However, from the point of view of the whole market, most often outsourcing concerns three areas – IT, finance and human resources management. These data come from the report "Small Business Outsourcing Statistics in 2019".
As the report quoted by us shows, in 2017 the most frequently performed IT outsourcing services were… Creating applications (without specifying their types). Application maintenance was commissioned a little less frequently. Often IT outsourcing concerned data centers, IT infrastructure, helpdesks. The least often it concerned the total network and system integration. These data are consistent with what we experienced in Concise Software – even though we mainly deal with software development, we constantly observe the needs of our clients and advise them in key areas of IT projects. 
Why is it worth to get interested in IT outsourcing?
First of all, by outsourcing specific tasks to another entity, we usually have access to well qualified specialists who know the problem from the very beginning and have developed appropriate processes for it. A company that outsources IT can thus focus on the areas that are particularly important to it – this means more resources that can be used in a better way. Additionally, thanks to IT outsourcing, it is possible to better scale our business and resources put into the realization of a specific task. 
It is also worth mentioning about saving time (and money). In order to build a department of IT specialists who will carry out specific tasks, you first need to conduct a recruitment process. It is good that this is done by specialists who know the IT industry. Then you should make sure that the best possible specialists are selected. Next, it is necessary to determine the tasks and create processes allowing for work optimization. After that you can proceed to the implementation of tasks, but during the process you should make sure that the process is effective. There is nothing worse than a failed project in which we put a lot of resources – time and money. In this case, IT outsourcing works great – inside the entity performing the task for us there are already specialists with appropriate qualifications. There is also a Project Manager who will watch over the whole process. At Concise Software, thanks to an extensive QA team, we guarantee that the solution created by us will work exactly as our client wishes – this is the gold standard in our industry. Additionally, we also have graphic designers, UX/UI specialists and a marketing department that can also advise on business and promotional issues. As a partner for our clients, we try to be flexible, employing the right specialists – all the time keeping in mind the needs of every entity that turns to us. 
How did the SARS-CoV-2 pandemic affect the way we work?
Due to the poor pandemic situation in Poland, Concise Software, like many other IT companies in the country, had to switch to remote working. This required us to create many additional processes and stronger efforts in terms of work organization. It was all the more important because many of our specialists worked at home, and communication took place only with the use of communicators and tools used on a daily basis, e.g. to organize tasks. Our goal was to create such an environment for remote work, which will ensure that we will not lose any of the values that we follow when performing tasks for our clients: quality, reliability and flexibility. Summarizing the year 2020, we can safely say – Concise Software performed this task perfectly – despite the pandemic, we managed to establish cooperation with new customers and implement further great projects. We are all the more pleased that we have worked in difficult conditions – despite everything, the pandemic is not only sanitary regimes, it is also sometimes difficult to bear isolation and higher risk of serious illness in the team. 
By being responsible and not endangering our employees, we have created processes that will allow us to be more flexible in the future. We are not afraid to work remotely – and our employees have appreciated this fact in no way. The effectiveness of the tasks has not decreased – on the contrary. Thanks to excellent communication and many efforts of the HR department, we were able to work on the same level all the time. In addition, the office management department made sure that our employees have at their disposal all the equipment and programs that are required to complete tasks. The marketing department was also very active all the time, supporting the specialists working with the software in the context of graphic design. We believe that the appearance of the vaccine in 2021 will finally make it possible for us to meet in the office, as it was before the pandemic. Nevertheless, we are not afraid of similar cases in the future. However, we know that for some companies, especially in Poland, the pandemic was a huge blow. We watched how many businesses in Rzeszow had to close down because of the inability to make money. Many entities had to lay off most of their employees. At Concise Software we did not feel such effects of the pandemic due to excellent management at every level and relatively low risk of pandemic impact on our business. 
A typical employer can save about $11,000/year for every person who works remotely half of the time. Employees can save between $2,500 and $4,000 a year (working remotely half the time) and even more if they are able to move to a less expensive area and work remotely full time.
Kate Lister
President of Global Workplace Analytics
Remote working also has many advantages for employees. It is worth pointing out that the majority of employees performing their tasks remotely believe that they are more productive. This is due to the fact that they work in a pleasant environment for themselves and can feel completely at ease – even when doing their job. At the same time, and very importantly, it is not uncommon for people working remotely because of the SARS-CoV-2 coronavirus pandemic to have to look after their children, who could not go to school due to their closure. Remote working thus created comfortable conditions for those who were struggling with such a problem. Other employees pointed to greater freedom in organizing work and a greater sense of security. The health of our employees and their satisfaction is of the highest value to us – we know that when they are happy while working for Concise Software, it will translate into projects they carry out. This is why we have a great interest in these types of things.
The report, however, using data from various sources, shows that 64% of team managers working remotely were worried about their employees' productivity. In fact, it may be that productivity is falling after a rapid transition to a remote model. However, when we have the right processes for remote working, it's not a problem. We've seen that the solutions we've implemented and the right organization of work, as well as the activities of the HR and office management department, have ensured that productivity hasn't decreased at all. Considering the success of our projects, we can assume that our capabilities have increased. We are very pleased, because we also wondered what impact on our business will have on the need to move to a remote model. An important factor for us is also the satisfaction of our customers – it would certainly not appear if the processes created by us were incorrect or work against us.
Read also: Carbon neutral cars – what's new in the automotive industry?
While in 2019, the fastest growing markets in IT outsourcing were China, the Philippines, Taiwan, Ukraine and Vietnam, in 2020 it was Ukraine, Poland, Belarus and Romania. This means that the companies from these countries have gained the greatest interest of clients in the context of the implementation of tasks for them. Concise Software is a beneficiary of this situation – we are very happy to be part of this success. However, we want to indicate why this is happening. Specialists from the above mentioned countries have great skills – they learn well and adapt quickly to new situations and are willing to improve their qualifications. In addition, the IT market in general is developing well in these countries. Observing Poland in this respect, we see incredible changes not only in terms of the size of businesses around us, but also a significant change in business approach. We are becoming more and more bold in our approach to cooperation with foreign entities, as well as in central European countries IT companies are strongly supported – believing that their development will contribute to faster and more beneficial economic growth for the whole country. 
The reason for this state of affairs is also the deep computerization of Central European countries. The coronavirus pandemic has even accelerated some such processes in Poland. The appearance of electronic prescriptions in our country made it unnecessary to remember to take a traditional document printed on paper with you. A smartphone is enough. Such a prescription cannot be lost or destroyed. This makes it much easier to use the health care system. Moreover, there is a special website in Poland (in the form of a web application), where you can find all the information about our health – the medicines we take, the referral doctors write down and the list of obtained health services. Additionally, doctors have a better view on how a given patient has been or is treated. They can assess the interactions between the drugs they are taking and choose the best possible form of treatment for the patient.  
What is worth emphasizing – in 2021, when we will face the necessity of wise distribution of vaccines in the society – the system of electronic medical referrals will allow for better management of the possessed resources. We are glad that such a revolution is taking place in our country. For sure, it could not be possible without IT outsourcing, because – as we know – government institutions (this is also the case in Poland) are willing to outsource IT. The system created for the health care system turned out to be extremely successful and can boast good reviews – both from patients and entities that deal with public health care in Poland. 
The importance of IT outsourcing will only grow
Taking into account our experience as well as the report, which indicates the most important factors concerning IT outsourcing, we are sure that the importance of IT outsourcing will not decrease – on the contrary. It will only grow. This is great news for us, but also a great responsibility. The growth of this market will also be followed by the need to constantly improve the qualifications of our specialists and care for maintaining the highest quality of services provided by Concise Software. However, we are fully prepared for this – we are sure that our customers will appreciate our efforts and we will record only good years. 
It is worth mentioning that without IT outsourcing, some projects could never be created. The success of some solutions depends directly on which partner we choose for cooperation. We can do certain things ourselves, but it requires a lot of costs – in the form of time, money, resources. You can also find a reliable partner who will do the job for us. 
Do you have a project that requires a special approach? Do you want it to achieve business success? Contact us – we will show you how to do it.
Data source: Codete report (full version)