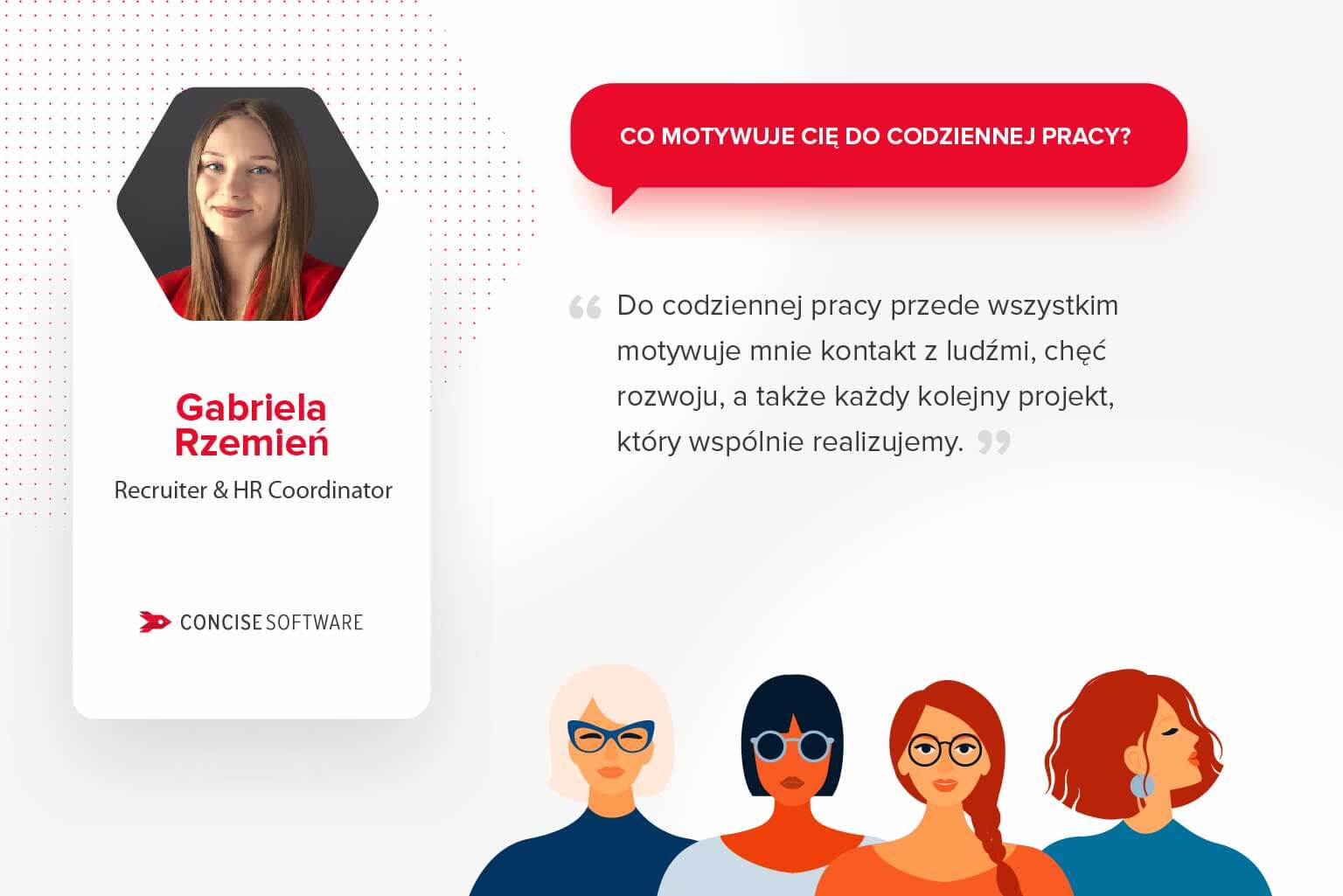 #WomenOfConcise – Wywiad z Gabrielą Rzemień
W ramach cyklu #WomenOfConcise przedstawiamy Wam nasze koleżanki – dziewczyny z branży IT, które opowiedzą o swoich zainteresowaniach, o tym, dlaczego wybrały taką pracę i co je motywuje do działania. Zapraszamy do wywiadu z Gabrielą Rzemień.

#1 Czy możesz opowiedzieć trochę o tym, czym się zajmujesz w Concise Software i jak wygląda Twój typowy dzień?
W Concise Software na codzień zajmuje się rekrutacja pracowników, bieżącymi sprawami w dziale HR, a także działaniami employer brandingowymi. Rano zaczynam dzień od mocnej kawy, sprawdzam pocztę i zaczynam pracę razem z ludźmi bez których praca w Concise Software nie byłaby, aż tak ciekawa. 
#2 Co było Twoją wymarzoną pracą w dzieciństwie?
W dzieciństwie zawsze chciałam być piosenkarką, jednak odrobinę zabrakło talentu 😀

#3 Czy zawsze wiedziałaś, że praca w branży technologicznej jest tym, co chcesz robić? Jak to się stało, że zdecydowałaś się na pracę w IT?
Tak, od początku mojej kariery w rekrutacji wiedziałam, że finalnie chciałbym rozwijać swoje skrzydła w branży IT. 
#4 Jaka umiejętność jest najważniejsza w Twojej codziennej pracy?
Komunikatywność to zdecydowanie jedna z tych umiejętności, bez której na moim stanowisku ciężko byłoby się obejść. Wykorzystuje ją podczas każdej rozmowy rekrutacyjnej, a także w codziennym kontakcie z pracownikami. 
#5 Czy miałaś kiedykolwiek problemy z pewnością siebie? Jeśli tak, w jaki sposób sobie z nimi radzisz?
Nie, nigdy nie miałam problemu z pewnością siebie, wręcz przeciwnie – jestem okropną gadułą.

#6 Co motywuje Cię do codziennej pracy?
Przede wszystkim motywuje mnie praca z ludźmi, chęć rozwój, a także każdy kolejny projekt, który wspólnie realizujemy.

#7 Jaka jest najlepsza rada zawodowa, jaką kiedykolwiek otrzymałaś? 
"Nie ma rekrutacji niemożliwych"
#8 Jaka kobieta jest dla Ciebie wzorem do naśladowania? 
Mam kilka, jednak największym od kilku lat z pewnością jest Martyna Wojciechowska – świetna podróżniczka i dziennikarka. 

#9 Czy zauważasz brak kobiet w branży technologicznej? Jeśli tak, to jak myślisz, dlaczego tak się dzieje?
Myślę, że na obecną chwilę już się to zmienia i kobiet w branży technologicznej jest znacznie więcej, niż wcześniej. Jednak nadal zawód programisty jest bardziej oblegany przez mężczyzn. 

#10 Jakiej rady udzieliłabyś kobietom, które rozważają karierę w branży IT? 
Nie skupiaj się nigdy na jednej rekrutacji, bądź otwarta na nowe wyzwania i nigdy się nie poddawaj.
Dołącz do grona wybitnych specjalistek i specjalistów w branży IT!
Sprawdź nasze otwarte rekrutacje!
Join Us Now!