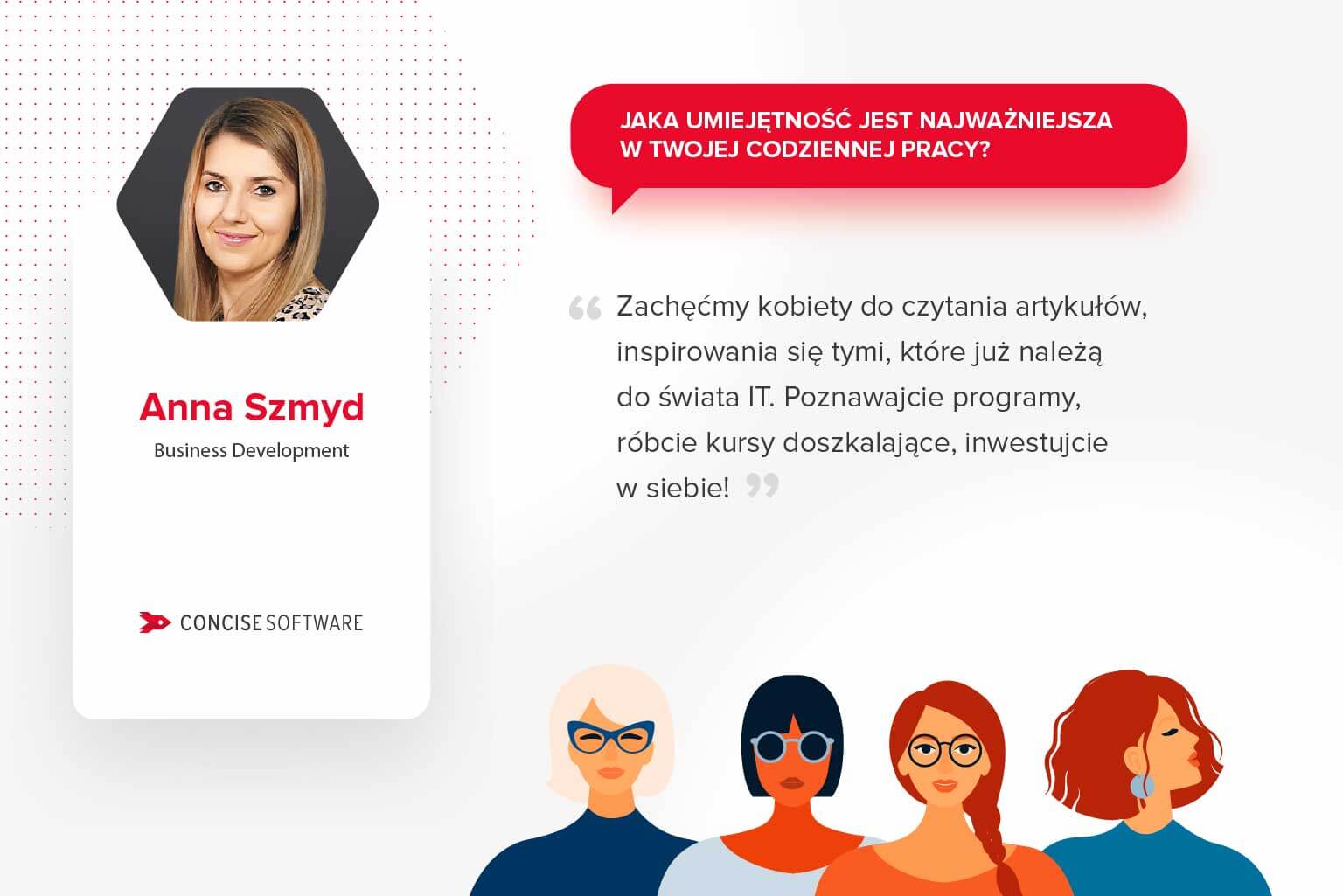 #WomenOfConcise – Wywiad z Anną Szmyd
W ramach cyklu #WomenOfConcise przedstawiamy Wam nasze koleżanki – dziewczyny z branży IT, które opowiedzą o swoich zainteresowaniach, o tym, dlaczego wybrały taką pracę i co je motywuje do działania. Zapraszamy do wywiadu z Anną Szmyd.

#1 Czy możesz opowiedzieć trochę o tym, czym się zajmujesz w Concise Software i jak wygląda Twój typowy dzień?
W CS obecnie zajmuje się Business Developmentem, czyli relacją oraz koordynacją z klientami, partnerami biznesowymi z Polski oraz zza granicy, szeroko rozumianym outsourcingiem, przygotowywaniem kampanii dla przyszłych klientów.
Mój typowy dzień jest zazwyczaj dynamiczny, ponieważ w naszej branży dużo się dzieje. 
#2 Co było Twoją wymarzoną pracą w dzieciństwie?
Chciałam zostać podróżnikiem, poszukiwaczem przygód.
Najbardziej chciałam pracować na statku, odwiedzając różne kontynenty aczkolwiek pasjonowały mnie również wyprawy wysokogórskie w Himalaje – co zostało moją pasją do dziś.
#3 Czy zawsze wiedziałaś, że praca w branży technologicznej jest tym, co chcesz robić? Jak to się stało, że zdecydowałaś się na pracę w IT?
Nie, chciałam spróbować czegoś nowego.

#4 Jaka umiejętność jest najważniejsza w Twojej codziennej pracy?
Komunikatywność, szybkość w działaniu oraz słuchanie potrzeb ludzi, praca w duchu Agile.

#5 Czy miałaś kiedykolwiek problemy z pewnością siebie? Jeśli tak, w jaki sposób sobie z nimi radzisz?
Nie.

#6 Co motywuje Cię do codziennej pracy?
Rozwój oraz rozszerzanie i wykorzystywanie wiedzy, praktyki.

#7 Jaka jest najlepsza rada zawodowa, jaką kiedykolwiek otrzymałaś? 
"If you can dream it, you can do it".
#8 Czy zauważasz brak kobiet w branży technologicznej? Jeśli tak, to jak myślisz, dlaczego tak się dzieje?
Jest coraz więcej kobiet w IT ale zauważyłam, że są to stanowiska techniczne.
Chociaż w ostatnim czasie jest coraz większy focus na HR i miękkie umiejętności.

#9 Jakiej rady udzieliłabyś kobietom, które rozważają karierę w branży IT? Jakie wskazówki mogłyby być dla nich pomocne w Twojej opinii?
Nie bój się i działaj – próbuj, do odważnych świat należy i stoi otworem.
Rozszerzaj swój network.

#10 Jak możemy sprawić, by więcej kobiet zaczęło zajmować się technologią?

Zachęcając kobiety aby czytały artykuły, blogi, inspirowały się tymi które już należą do świata IT.
Poznawały programy, robiły kursy doszkalające oraz inwestowały w siebie.
Jest coraz więcej programów mentoringowych, skierowanych właśnie do kobiet – polecam.
Dołącz do grona wybitnych specjalistek i specjalistów w branży IT!
Sprawdź nasze otwarte rekrutacje!
Join Us Now!