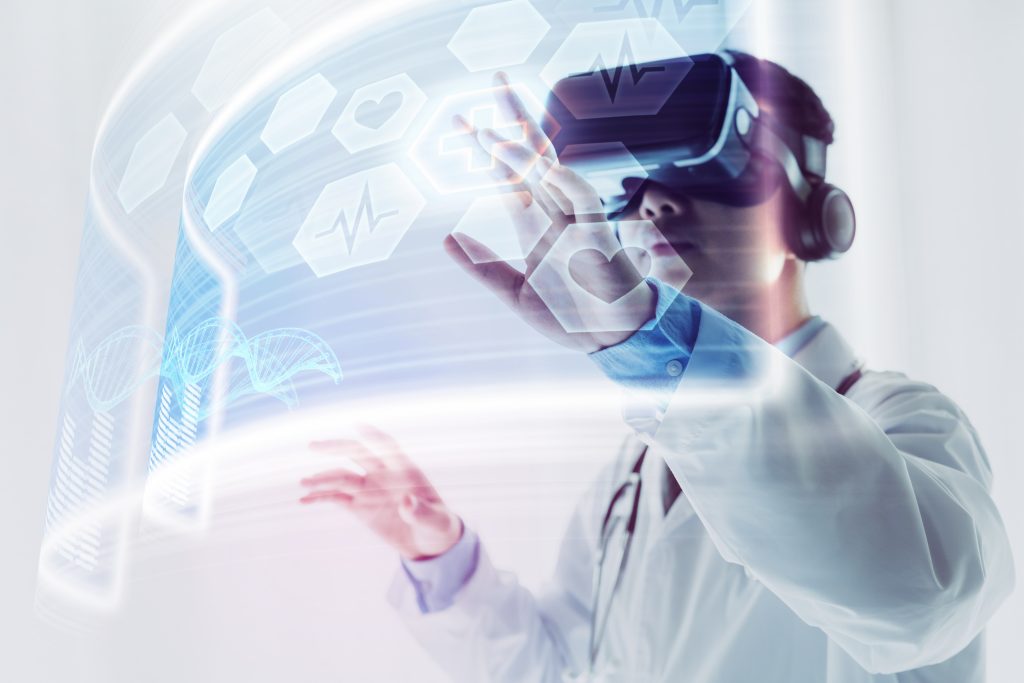 Virtual Reality in Healthcare – Transforming Medical Education and Patient Care
Virtual reality is everywhere, from games to classrooms and everything in between. It only makes sense that there is a spot for virtual reality in healthcare, too! The market has grown far beyond gamers, offering real potential in applications like medical therapies. 
Digital transformation in healthcare, on the whole, is supposed to improve patient outcomes, and healthcare efficiency. Medical practitioners and facilities benefit from streamlining, risk reduction, and less strain on the system. Technologies like virtual reality allow everyone to embrace innovation, transforming the industry for the better. Here's how it works.
What is virtual reality in healthcare?
Virtual reality in healthcare is the use of immersive, computer-based technology in delivering care and medicine. Typically, to use virtual reality in healthcare, the user is wearing a virtual reality headset and sometimes using handheld controllers. They are then placed inside of a virtual world, in which they can explore and interact.
Virtual reality is designed to give people a hands-on experience no matter where they actually are. In the context of a game or video, it is a fun way to spend an afternoon. In the healthcare industry, virtual reality is used a bit differently.
There are two key ways virtual reality exists in healthcare. The first is for practitioners and healthcare staff, and the other is for patient use.
Virtual Reality: Training for physicians and medical students
For practitioners and others who need training and education, virtual reality opens many doors. People can 'watch' an operation or other procedure as if they are there in real life, immersing themselves in training. They can also experience what it is like to exist in the body of someone with a certain impairment or condition, building empathy.
One study at UCLA found that virtual reality training improved overall surgical performance by an amazing 230 percent compared to traditional training methods. In addition, virtual reality trained participants completed their surgical procedures 20 percent faster, with 38 percent more correct steps in the procedural checklist. 
There are some procedures that are highly specialized that most practitioners would not have the ability to experience and learn from. With virtual reality, however, these procedures are more accessible. With cameras in the operating room, practitioners from any location can put on a virtual reality headset and learn as if they are there, live. They can speak with one another, zoom in, and collaborate as required.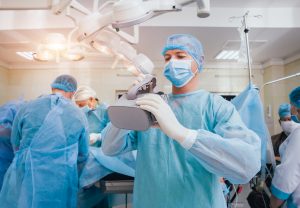 Surgical planning can also benefit from virtual reality. At Stanford, for example, teams plan brain surgery with virtual reality headsets. Each headset is linked, and interacts with a virtual reality setting created from patient brain scans. 
Gerald Grant, MD, endowed professor of neurosurgery and division chief of pediatric neurosurgery at the Brain and Behavior Center at Stanford Children's Health, explains how it works. With the virtual reality scans, the team can plan ahead for approaching difficult cases like skull-based tumors. They know how to navigate through small corridors in the brain because they have done it in the virtual reality setting, long before the patient is in front of them.
Ideally, this means less time in the operating room and less time under anesthesia. Recovery is easier, and the procedure is more efficient. At the same time, surgeons can get through complex procedures and try new approaches, safely. 
Virtual Reality: Patient therapy
Because virtual reality is immersive, it offers many benefits to patients. Consider someone who is in the hospital or another inpatient setting, with nothing to do but wait. Virtual reality in this setting can be relaxing, and relieve anxiety.
A study from St. George's Hospital in the United Kingdom shows how well this can work. Patients undergoing surgery with local anesthetic were able to wear virtual reality headsets before and during surgery. They were transported to exotic locations, with relaxing elements like waterfalls and beaches. 
All of the patients in the study reported that the virtual reality headsets improved their hospital experience, and 94 percent indicated they were more relaxed. It also helped with pain and anxiety, with 80 percent reporting less pain and 73 percent reporting less anxiety. 
As the lead researcher in the study noted, this also has benefits for recovery. Patients using virtual reality to manage pain and anxiety can potentially avoid sedatives or general anesthetics. This allows for faster recovery, less expense, and empowerment for patients who are directly participating in their care.
Those findings match what other studies have uncovered: when patients are engaged with virtual reality, they are less focused on pain and anxiety. Some practitioners use virtual reality headsets while working with kids, for example, allowing them to play a game and avoid thoughts about IVs and needles. It can reduce overall fears over medical procedures for people of all ages. 
Virtual Reality: Physical therapy
Virtual reality also has a purpose within physical therapy, making the experience more enjoyable so patients are more likely to follow through. It can also provide greater access to physical therapy for patients who have barriers. Using virtual reality, patients go through training, often gamified.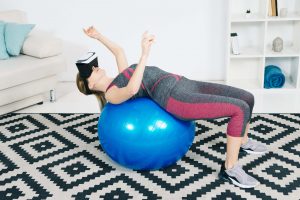 One study, a pilot program, had positive results, showing that virtual reality physical therapy is acceptable and practical for patients. The majority of patients in the study said they had a positive experience, and researchers discovered potential for the data collected through virtual reality. Practitioners can easily measure progress and supervise therapy remotely, ensuring that each exercise is actually worth a patient's time. 
Neuro Rehab virtual reality is one company providing technology for this purpose. Their system helps with neurological rehabilitation, physical therapy treatment, and clinical assessment. It is clinically validated and FDA-registered.
For patients, the therapy tech mimics real, daily living. It can be customized to a patient's needs, ability, and targeted therapy plan. The latest system comes with a wireless, portable virtual reality headset and a tablet. That means patients can use the system on the go, including in conjunction with other equipment at a facility.
Virtual Reality: Patient education
Cedars-Sinai is an industry leader in using virtual reality medically, helping both patients and doctors. Along with exploring virtual reality for pain management and training, they are looking at how virtual reality can be used to educate patients and prevent disease. One program was aimed at reducing high blood pressure in the African American community of south Los Angeles.
Patients in the program watched a BR video showing the effects of sodium intake. They saw, in virtual reality, how salt can damage one's heart. Experiencing education via virtual reality can better motivate long-term changes, according to Cedars-Sinai. 
Challenges in adopting VR therapy
The benefits of virtual reality for healthcare are apparent, especially looking at the applications and examples above. Of course, as with any technology and approach, there will always be some obstacles. Most can be overcome with planning and strategizing.
Clinical organization and willingness to adopt new technology is a hurdle in all aspects of digital transformation in healthcare. Even adopting electronic medical records takes time, and not every facility is on board with that yet! There needs to be access to infrastructure, compatibility with other systems, privacy considerations in place, and buy-in from all levels. 
A lack of knowledge about virtual reality, and virtual reality in healthcare, can also contribute to this problem. People may still think of virtual reality as a gaming and entertainment device, rather than something legitimately helpful for medical purposes. Demonstrations of virtual reality technology and reviewed publications and studies can help overcome this particular challenge.
Some organizations will find resistance from the other side — end users, or patients, might be reluctant to try virtual-reality-based therapy. Younger generations who are used to technology in all aspects of life may be more likely to go along with innovative technology, but older populations are both plentiful and more reluctant.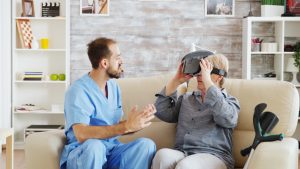 Finally, another big obstacle is cost. Virtual reality systems that are affordable and compact are likely only able to be reused by one patient at a time. More complex virtual reality systems will require a greater investment, which can be hard to attain if there's not buy-in from all stakeholders. 
There is another way to look at the investment in virtual reality for healthcare that shows how cost effective it can be. Instead of having to buy surgical instruments and devices, and pay for time in operating suites and anesthesia rooms, virtual reality can work in many situations, and ultimately cost less. Improved patient outcomes also reduce the overall cost of the healthcare system, again pointing to virtual reality as a meaningful investment. 
Luckily, the market for virtual reality in healthcare is in good shape and technology is becoming more affordable and accessible every day. 
The market for virtual reality in healthcare
Healthcare is always an industry that will exist. Even with technological advances, people need care. In fact, technologies only serve to revolutionize and improve the healthcare industry, expanding market potential. Virtual reality is one of those revolutions, offering a strong global market for anyone interested in being a part of the transformation. 
One study suggests virtual reality in the healthcare market could be worth almost $34 billion by 2027. It was valued at $2.14 billion in 2019, which means it could grow at a CAGR of 41.2 percent from 2020 to 2027. 
North America holds a dominant share in the global virtual reality market, which will only be improved by increases in private and government funding. Key players include Microsoft, Alphabet Inc., General Electric, and Philips. Hardware is one of the biggest segments of the market, followed by software. Content is next.
The most popular applications driving the market for virtual reality in healthcare start with pain management, as outlined above. Education and training, surgery, patient care management, rehab and therapy procedures, and PTSD treatment follow along. Pain management is expected to be a particularly in-demand segment, thanks to the effectiveness of virtual reality in this area as proven by various research studies. 
What about the COVID-19 pandemic? Well, it has also improved the outlook for virtual reality in healthcare, which is probably not a surprise. The demand for virtual reality tools has been intense across all industries, healthcare included. Between providing care to patients virtually, to allowing for virtual training for practitioners, coronavirus is a driver for virtual reality growth.
Another driver of growth in VR in healthcare is smart wearables. Wearable devices are already popular with consumers, and are being used in medical and healthcare settings. Now, there is potential for integrating wearable devices with virtual reality. There is also potential for growth thanks to virtual clinics, like Amazon Care. On top of that, big name companies like Amazon are working as incubators for digital health companies, seeking partners in innovation. 
There is clearly an appetite for digital transformation in healthcare, including virtual reality. If you're interested in this field, it is simply a matter of creating a solution that works, which all starts with development. That is where Concise Software can enter the picture and turn your VR in healthcare plans into functional, appealing reality. Read on to learn more about what we can do for you. 
Work with us 
Does virtual reality in the healthcare market look appealing to you? Concise Software can help you. We specialize in web and mobile app development, blockchain and the Internet of Things. All of our technologies offer agility, flexibility and speed.
Working with us you all get access to top talent, cost-effective work, flexibility, and of course, high-quality results. Our business development team is standing by ready to hear what you want to build. We can provide a project estimate in two days. It's time to join the market of the future!
This may interest you:
Telehealth – Your Ticket to On-Demand Healthcare Services
4 benefits of Internet of Things for healthcare
The Rising Popularity of Apps for Mental Health
Artificial Intelligence in Healthcare: Key Trend in Digital Transformation
Big Data in Healthcare – Unlocking the Potential of Medical Records
Predictive Analytics in Healthcare – Staying One Step Ahead of Emergency
Introduction to EHR – What are the Benefits of Electronic Health Records?
HIPAA guidelines for healthcare apps development
Your Guide to the Benefits of Telemedicine Apps
Wearable Devices: Embracing Technology for Better Patient Care
Why should we worry about healthtech? Facts and thoughts
Major medtech trends to follow in 2022 and beyond!
What are the risks in digital healthcare?