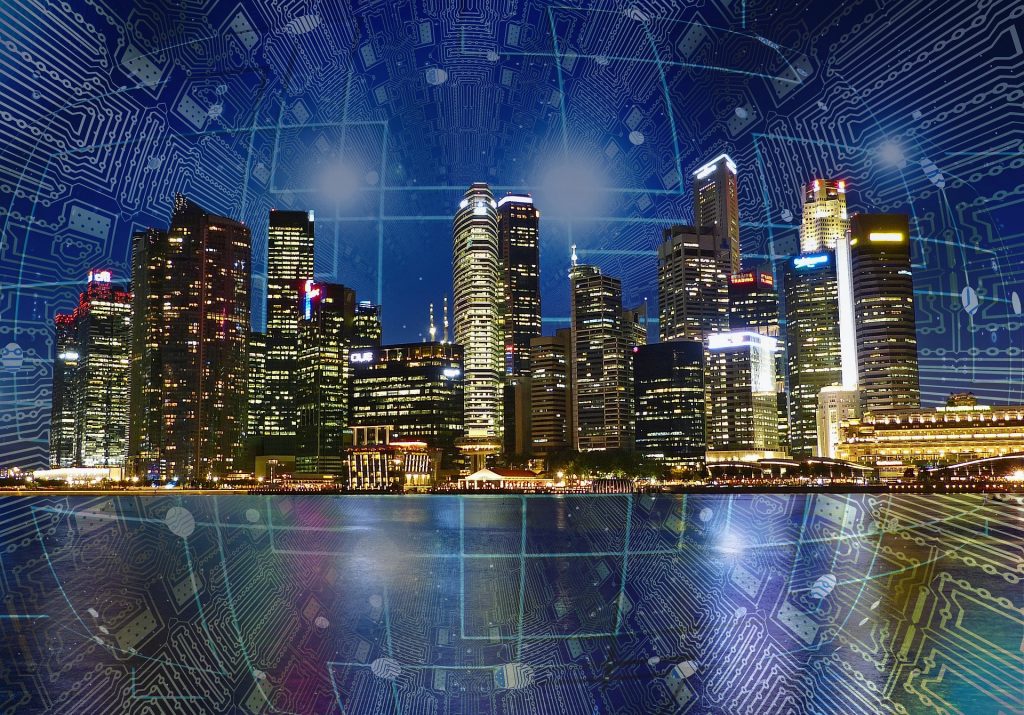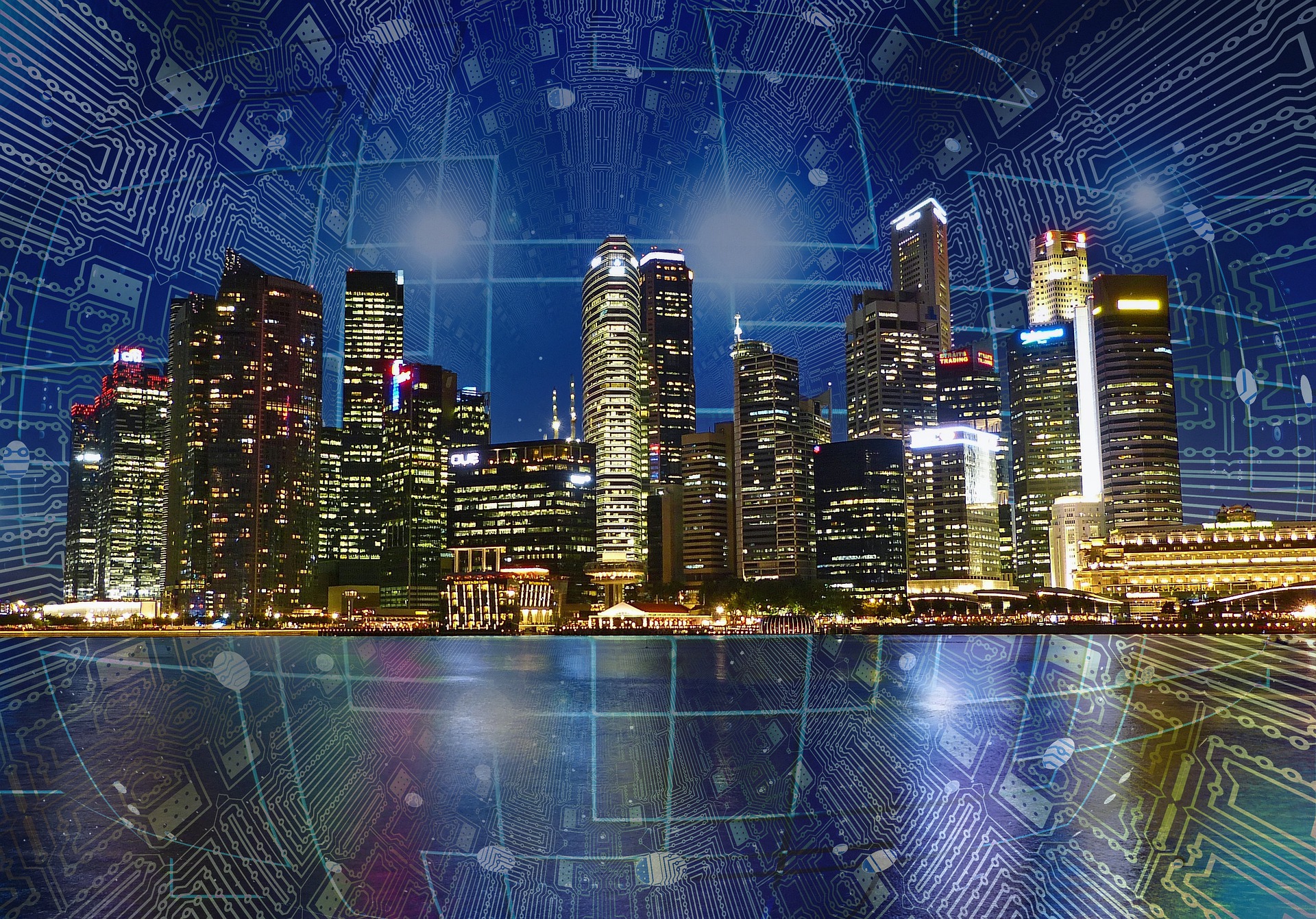 Smart City – How to Improve the Urban Quality of Life in a Smart Way?
The prevalence of smartphones and modern mobile technologies supports innovative projects based on the principle of multiple connected services. An ecosystem of such possibilities is the Smart City, which functions as a "free idea" denoting intelligent, well-connected and resident- and visitor-friendly urban centers. What does Smart City mean and how can it be used? Be sure to check out our article!
The most frequently mentioned in this context of Smart City are the Internet of Things (IoT), artificial intelligence (AI) and machine learning, real-time data collection and analysis (big data) using a network of sensors and cloud computing solutions. However, does a smart city really need to be saturated with cutting-edge technology? Do smaller towns and cities, therefore, have no chance to earn the title of smart city? Absolutely not, or rather: not yet. Indeed, the first concepts of smart cities were strongly techno-centric and focused on the widest possible implementation of new technologies. However, the smart city concept has evolved and now has a more human face.
It is good to get to know the theory first in order to better understand the practice later. In the case of Smart City, we are already witnessing the implementation of many systems that fall into this category. The best visible example is street lighting systems. They now no longer only need to provide sufficient brightness, but also low energy consumption and allow optimization of their operation so that they do not shine when they are not needed at all. With the use of a variety of sensors that make real-time measurements, such a goal is achievable. Looking at the numerous benefits, it is no wonder that so many cities have already decided to follow this path.
Another related topic is parking systems. Here, companies are approaching this issue in different ways, relying either on sensors or computer vision systems. There is no doubt that both options are interesting and have great potential. Especially important in their case remains the fact that they reduce the possible time of searching for a parking space. In the future, when roads will be dominated by autonomous cars, they will become an extremely important piece of the puzzle.
Predicting residents' waste output is also an interesting example. In Chicago, sensors were installed in garbage bins and over time, a really practical analytical tool was obtained that was able to correctly predict the amount of garbage. As a result, the city authorities not only optimized the routes of city services collecting waste. At the same time, they managed to reduce the rat population by 20%. The Seoul government also decided to use such a mechanism, thanks to which the city began to save money and became a friendlier place.
If we talk about Smart City, it is impossible to forget about public transport. It remains the subject of many heated discussions and there is no indication that this will change. Anyway, in this area we can also see very dynamic development and interesting applications of artificial intelligence algorithms or even quantum computers. In the latter case, however, we are talking about demonstrations of possibilities rather than real applications. In this particular case we should also add information about traffic analysis systems. By measuring traffic volume, checking the number of passengers, cities are able to optimize routes and design roads that will not be associated with traffic jams at all. Ultimately, this will allow for faster distance travel and design all infrastructure based on real needs. Autonomous cars will also play an important role here. It is worth mentioning that they will communicate with the Internet of Things in the city, providing data about the most optimal route at any given moment.
The community has better access to comprehensive information about the city, which supports engagement with the city and increases awareness among city residents. This increases the transparency of decision-making in the public sector. Smart cities in decision-making processes can use the ideas and opinions of residents that are expressed in public consultation processes. Thus, the importance of public participation increases. What is very important, cities manage their resources better and more efficiently – they operate more economically, emphasis is put on reducing the negative impact of the city on the environment. Thanks to that the inhabitants live in a healthier environment. Of course smart cities also make everyday life easier.
The elements that make up the Smart City also include all services that are based on the sharing economy. Sharing economy is about connecting people through online platforms that enable them to provide services or share resources, capital or skills without transferring ownership. Here it is also worth mentioning the concept of the prosumer. It is a consumer and producer in one. Examples of such services include electric scooters for rent, cars, bicycles or shared rides. This benefits the planet and the users themselves.
Smart City – Benefits for All
The primary benefit to residents is first and foremost high-quality personalized services that are focused on the needs and convenience of residents rather than the convenience of service providers. Thanks to open data, but also thanks to the openness of city leaders, new services are created that make everyday city life easier. Activists and city leaders can more easily initiate the implementation of a broader spectrum of city services.  City authorities can make better decisions based on reliable data and information collected in a variety of ways: by monitoring the urban environment, inventorying urban infrastructure using modern measurement technologies, or as part of administrative proceedings and activities of the urban community.
The integration of information systems and the opening of more and more useful data makes it possible to create new services on their basis by city institutions or entrepreneurs. In a smart city the cooperation between the city's stakeholders (the office, organisational units, non-governmental organisations, universities, business) functions better and the higher transparency of the city's functioning, appropriate tools and access to information positively influences the involvement of inhabitants and entrepreneurs in decision-making processes. All this results in better relations with other cities and investors.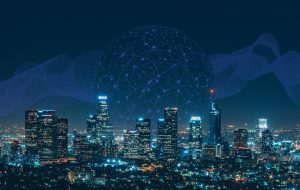 In a smart city, closer integration and cooperation between municipal service providers leads to synergies, higher efficiency and better monitoring of service delivery. City service providers can offer services better tailored to the needs of residents. With the availability of data on residents' needs and city conditions, service providers can adjust and improve services to increase efficiency of service delivery and improve customer satisfaction. The potential for savings is increased through data analysis and the use of shared infrastructure or new forms of investment financing.
IoT enables cities to integrate security systems in buildings and public spaces, allowing for more efficient monitoring and control of these systems. Internet-connected surveillance cameras, alarms and access control systems can help deter theft, property damage and other crimes and find the perpetrators. Remote monitoring of security systems can even help law enforcement stop and detect crimes more quickly. Cities can also install connected fire and other warning systems in buildings and public spaces.
Smart city technology can also help make roads safer. In tunnel systems, interconnected fire alarms, ventilation and lighting systems can allow remote monitoring and alarming to ensure tunnel safety. Relevant services can also remotely control street signs and street lighting systems, sometimes with the help of automation. These systems help ensure an even flow of traffic, and cities can use additional signs to warn drivers of hazards, making accidents less likely to occur.
Read more: The future of connected cars
Ensuring a reliable energy supply can also improve safety in cities. Smart city systems can help operators manage the power grid in a way that minimizes the risk of power failures. An integrated energy infrastructure can generate early warnings of problems and enable more flexible control of the grid. Cities can also use predictive analytics and data provided by a smart city to schedule maintenance work on the energy infrastructure to ensure optimal grid operation.
Future Prospects
The next few years will be marked by further popularization of solutions that allow cities to become real Smart Cities. In my opinion it is very important to involve citizens in the whole process. These solutions are created for citizens and they themselves should have an impact on how they will look and how much they should be present. Currently, the city halls themselves also take care of proper education through this. IT technology also plays an important role in all of this. Given how much progress has been made in recent years in the areas of machine learning algorithms and artificial intelligence, the miniaturization of devices, which is best seen with the Internet of Things, or more efficient data analysis, it promises to be the case that the IT market will be able to deliver appropriate mature and reliable solutions.
Are you creating a project that is related to the idea of Smart City? Do you have an idea that could become a highly innovative project that has the potential to improve the comfort of people living in cities? Tell us about it. We will show you that you can efficiently turn it into ready-made, working solutions.
You may like to read:
Agritech: Driving the future of agriculture with innovative technologies
Carbon Footprint Calculator – 6 Apps that Help You to Reduce Your CO2 Emissions
Carbon neutral cars – what's new in the automotive industry?
Carbon neutral companies – who actively helps the environment?
Digitalizing Wind Energy: How to Capture Data from Wind?
How does greentech help our environment?