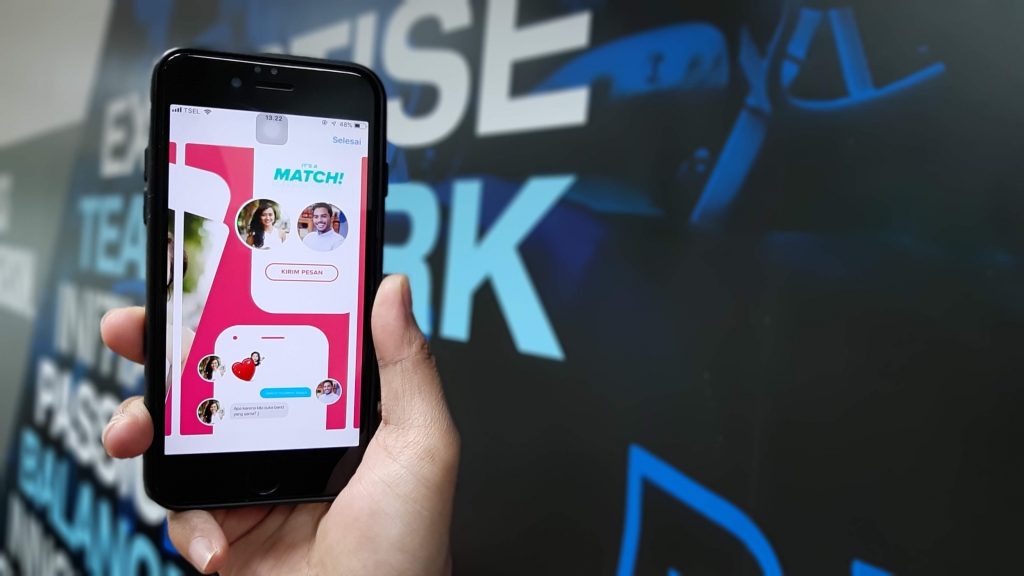 How to Create a Dating App That Meets User Expectations
Are you going to create a new dating app? It's a great direction – people nowadays feel (and are!) very lonely, looking for relationships that would fall to their preferences and interests. How to create a good dating app? This is what we will focus on in our text today! 
To get a good start on this topic, let's take a look at examples of dating apps that are already on the market. Some of them work in a niche (like Grindr – but more about it in a moment), while others are unquestionably a model of a well working and earning on the market dating app. Let's start with examples: 
Tinder – one of the most famous dating app nowadays
Tinder is an application that for several years allows singles (and not only) to make new friends. Tinder can be used not only to get to know your potential beloved/born, but also to interesting people living nearby or, as some users admit, to make friends for one night. Tinder is an application that was created in 2012 by five friends: Sean Rada, Chris Gulczynski, Joe Munoz, Jonathan Badeen, and Whitney Wolf. In English, "tinder" means "arson", "hot spot" and this is how the application is supposed to work: to make your friends happy.
Tinder is a dating application available for Android and iOS. Although it seems that only singles want to date, it turns out that they are not the only ones using Tinder. Only 58% of Tinder's users are married, another 4% are divorced. And the rest? As many as 22% of people using the application are married and 19% are in a civil partnership. 30% of all Tinder users are a mother or a father.
What is more, the Tinder application is mainly used by people living in medium and large cities; the youngest group is the largest one – 48% of all Tinder users are between 18 and 24 years old.
Tinder Plus and Gold
Tinder in the basic version is free of charge, there is also a possibility to buy Tinder Plus or Tinder Gold.
Tinder Plus removes the limit of the daily allowance, or rather the "right-handed" shifting. – Although this limit and in the basic version is not small – it is 100 likes.
The Tinder Plus option also removes the limitation related to the distance from the other person – you can look for partners at the other end of the world. It is also possible to cancel a choice made earlier and once a month uses a free boost, which is an option that makes a person super visible in the area for 30 minutes – for this short time the profile is displayed even 60% more users than in the standard version.
Tinder Gold is a version with all possible options. What do you get from it? Notification of each time you like the profile, information about how many people have liked the profile so far and who exactly these people are – the user has displayed a whole list of admirers. You can immediately see the profile of each of them and choose "right" or "left". The owner of a Tinder Gold account can give away up to 5 superlatives a day.
You can unsubscribe from Tinder Plus or Tinder Gold after the first month, but you have to cancel your subscription, otherwise, it will be automatically extended.
Badoo
Badoo is one of the most popular social networking platforms. Why? Interpersonal contacts are increasingly being transferred from the real world to the virtual world. It is no different with dating and feelings. Dating portals experience a real siege. Many couples have met through this site. How to move around Badoo and how to find your other half there?
More than 300 million users have registered on the platform, 50 million of whom visit their profile every day. Badoo was founded in 2006 and provides its services in 190 countries. Few dating portals can boast such numbers as Badoo. What is the success of this dating portal?
The service is designed to meet the needs of its users and combines several programs that enable us to find a partner that meets our expectations faster and more effectively. The creators of Badoo realized that also on the web not everyone can get the courage to start a conversation, so the "matching" option was created. What is it about? Our requirements are analyzed by the service, and then the program searches for potential partners in our area. At the same time, Badoo's security features are designed so that no one can see our exact location, for example only the city we are located in.
Badoo is a portal adapted to various devices, so if you want to talk to a person, you can use your mobile, laptop, tablet, or smartphone. A novelty on Badoo, giving you an advantage over other dating sites, are video chats. They are global, so we can use them anywhere in the world.
The basic functions of Badoo are completely free of charge, but there are also additional options for which the service charges. What will we pay for? For example, for our profile to appear higher in search results or to stand out from others. Payments on Badoo are made through so-called credits, which can be recharged at any time or linked to your bank account.
E-darling
Edarling is one of the leading dating portals in the world. It appeared in Poland in 2010 and quickly began to gain popularity, which is not weakening until today. The platform is addressed primarily to people who are looking for a long-term relationship and a serious, stable relationship.
It is based on a mathematical system developed by its creators, which is used to find partners who meet each other's expectations and preferences, also taking into account demographic data and psychological profiles. Edarling attaches high importance to the quality of its services, safety, and satisfaction of its users. It is a laureate of many awards, as well as the winner of recognized certificates, awarded by independent organizations.
The registration process on the Edarling platform is very simple. First, you need to fill in the registration form (provide basic data and read the regulations). Registration is free and after it is done you can take a free personality test. The test is quite detailed, you need about 45 minutes to complete it. It consists of individual parts, which are to determine the characteristics of the registrant's character, types of his relations with other people, preferences in choosing a partner, and approach to the relationship.
After registration and filling in the personality test, we will automatically find ourselves on the start page of the platform. It shows all the relevant profile information, a list of "Partner for You", where we will find the first proposals selected for our person, and "Guests". In addition, the homepage gives you access to a preview of the latest news, as well as many other options.
The registration, the execution of the personality test, and obtaining its result is completely free of charge. Basic membership with limited possibilities of use is also free of charge, including proposals of potential partners and basic activities aimed at getting to know other users of the platform (sending and receiving so-called smiles, i.e. signs of interest).
The whole service is called the so-called basic membership. However, in order to use the full potential of the Edarling service, it is necessary to use the so-called Premium membership, which is paid. They can be purchased for 3, 6, or 12 months. A Premium Membership provides extensive access to Edarling features. It gives you the opportunity to make contact and conversation with all users without any restrictions. It also involves viewing all images that are published on the platform and receive notifications about who visits and browses our profile.
Premium also includes access to the new "Decide for yourself" feature, which means you can receive up to twenty additional partner proposals. Moreover, quite important extras for this kind of membership are the possibility to check if the message we sent was read and a more technical, but very convenient, access to the mobile version of the service.
It is not without reason that the service is so popular, the number of new users is constantly growing. It has many advantages, but also several disadvantages. It is worth to take a look at all aspects of registering for Edarling and make a decision in peace.
The most important advantage is that the portal provides help in case of any problems and attaches great importance to the safety of people registered on it. If the profile of the Edarling platform suits us, it is certainly worth trying this way to achieve happiness.
Grindr
The Grindr is a "special" program in our list – it concerns the sexual "niche". In a nutshell – Grindr is a gay dating service, in an environment it is a well-known program for dating, talking, and looking for new friends. Its great advantage is that the user remains completely anonymous. 
Grindr, a dating application for gay and bisexual men created for Android, iOS, and BlackBerry OS devices. Grindr was created on March 25, 2009. It is currently the most popular gay dating app for smartphones in Poland.
The Grindr application enables the communication between users who are in the vicinity. The program interface displays pictures of people with the application installed, the pictures are arranged in order from the closest user. After selecting the photo a short description of the user is displayed, as well as a chat option.
Currently, there is no version of Grinder for personal computers (PC). It is also not possible to run Grinder in the browser window. The application works only on smartphones with iOS and Android operating systems for download from the App Store and Google Play.
The application appeared on March 25, 2009. After three months since its appearance, Grinder had over 100 thousand users, initially mainly from the United States. Currently, the application has gained popularity all over the world and is present in more than 70 countries. In September 2010 in the United States alone the number of users exceeded 500 thousand. Currently, the city with the highest number of users is London (mainly Soho district), where there are over 60 thousand of them. In March 2013 Grindr already had over 6 million users worldwide. In March 2014 Grindr reached more than 10 million downloads for mobile devices, which resulted in more than 5 million users worldwide logging into the application every month. In January 2016, 60% of Grindr's shares were sold to a Chinese company for $93 million.
In January 2011 Grindr application won the award for the best dating software for cell phones. Unfortunately, not everywhere Grindr gains such recognition: The use of Grindr application is blocked in Turkey, Iran, Saudi Arabia, and Indonesia.
Excellent dating app. What should it be like? Let's gather the most important advantages of all the listed services:
The dating app should have elements of an algorithm that matches the users

It is worth taking care of the right interface – people love to use simple and clear solutions

For the dating app to earn money, there must be users on it. Try to get a fast growth of users at the beginning for the platform to become effective. Cooperation with micro-influencers can be a good lead. 

Remember about user privacy! Proper security and meet all privacy requirements are literally "sacred" things. They must not be underestimated. 

Every good dating app has to have an extensive chat room that supports emotions, animoji, and the like.

It is also worth having a "quick reaction" team for any violations of the regulations. Unfortunately, users of such programs often break the rules and send, for example, inappropriate pictures to random people. It is worth to establish a strategy on how to eliminate them. 

Age verification – dating apps are not programs for children. It is worth taking the time to prevent children from using our services. 
Do you want to create your own dating app? Do not know where to start? Contact Concise Software – we will show you what you should do! Check us out! 
More about apps:
Looking for image recognition app? Here's everything you need
Diet & nutrition apps: How to Create Apps Serving Nutritional Guidelines?
Fitness Apps – How to Keep Your App Development on Track
Saving water – 8 useful water conservation apps to calculate water footprint
Wellness App – What to Keep in Mind when Creating Apps for Meditation?
Why should you consider creating medical app and how to do that?