PHP (Shopware) Developer Website Concise Software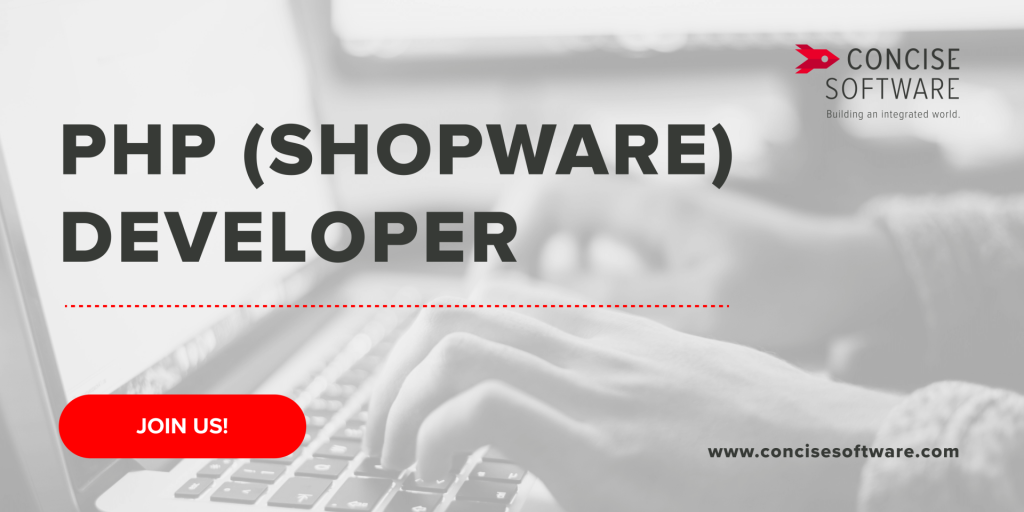 Rozwijamy się! Nasz zespół poszukuje obecnie PHP (Shopware) Developera. Niesamowicie ucieszymy się, jeżeli to będziesz właśnie Ty! 
Jesteśmy grupą specjalistów z różnych dziedzin nastawionych na ciągły rozwój oraz zmienianie na lepsze otaczającego nas świata. Współpracujemy z najlepszymi na świecie – dzięki temu czujemy, że nasza misja realnie przekłada się na konkretne projekty. 
Ciągłe poszerzanie horyzontów i zaangażowanie to coś, co niezwykle cenimy. Nasz zespół chętnie dzieli się swoim doświadczeniem oraz wspiera każdego, kto dołącza do grona naszych pracowników. To coś, czego szukasz w swoim życiu zawodowym? Skontaktuj się z nami!
Możliwość 100% pracy zdalnej
Wymagania:
Minimum rok doświadczenia w pracy z Shopware 

Doświadczenie w integracji i rozszerzaniu popularnych modułów Shopware

Bardzo dobra znajomość PHP, HTML5, CSS3, JavaScript

Dobra znajomość Symfony

Dobra znajomość MySQL i umiejętność optymalizacji zapytań pod kątem wydajności.

Wysoko rozwinięte umiejętności analityczne

Znajomość OOP, umiejętność stosowania zasad SOLID i DRY.

Doświadczenie w pracy z REST API oraz GraphQL API

Praktyczne doświadczenie w pracy z Git
Mile widziane:
Podstawowa znajomość

Vue.js

Doświadczenie w budowaniu integracji API

Znajomość Shopware PWA
Obowiązki:
Realizacja projektów e-commerce w technologii Shopware dla globalnych marek

Rozwój nowych funkcjonalności, rozwiązywanie błędów i utrzymanie niezawodnej, wysokiej jakości strony Shopware

Aktywny udział w spotkaniach projektowych

Współpraca z innymi członkami zespołu nad realizowanym projektem
Oferujemy:
Elastyczne godziny pracy

Elastyczną formę zatrudnienia

Budżet na wyjścia i wyjazdy integracyjne

Lekcje języka angielskiego

System premiowy MyBenefit

Bibliotekę branżową + bazę e-learning

Budżet szkoleniowy

Prywatną opiekę medyczną

Środowy lunch (biuro)
Chcesz do nas dołączyć? #CSRocketTeam czeka na Ciebie! Wystarczy, że wyślesz do nas CV  (koniecznie z następującym dopiskiem):
"Wyrażam zgodę na przetwarzanie danych osobowych przez CONCISE SOFTWARE Sp. z o. o. z siedzibą w Rzeszowie przy ul. Geodetów 1, zgodnie z ustawą z dnia 10 maja 2018 roku o ochronie danych osobowych (Dz. Ustaw z 2018, poz. 1000) oraz zgodnie z Rozporządzeniem Parlamentu Europejskiego i Rady (UE) 2016/679 z dnia 27 kwietnia 2016 r. w sprawie ochrony osób fizycznych w związku z przetwarzaniem danych osobowych i w sprawie swobodnego przepływu takich danych oraz uchylenia dyrektywy 95/46/WE (RODO))."
Naszą politykę prywatności znajdziesz pod linkiem: https://concisesoftware.com/privacy-policy/