Garden
GARDEN - never lose touch with those you care about
The challenge
We live fast, we are extremely busy with the development of our careers and we don't have much time to cultivate our relationships. This is a very serious problem – after all, family and friends are very important in our lives. Garden responds to this need and offers help with managing your friendships so that you never forget about the nearest and dearest.
Currently, we emphasize on business relations, no one focuses so much on managing contacts with the loved ones. Garden is a kind of "CRM" for relations with friends and family: it allows you to collect important data about your loved ones in one place, add notes, photos, and set reminders so that you do not forget about regular contact.
However, this does not mean that it is not possible to manage business contacts with Garden – quite the contrary. The program is perfect for managing them as well – in such a usage scenario it becomes an advanced address book, which will allow to better manage all the contacts that are placed in the application. 
Garden is well-designed if fairly simple – it's a contact manager with push notifications. The hard work of actually keeping up will have to be done by you – you can't just like a few posts and call it a day. But this may be what some people want right now as they wean themselves off Facebook.
Garden app featured on TechCrunch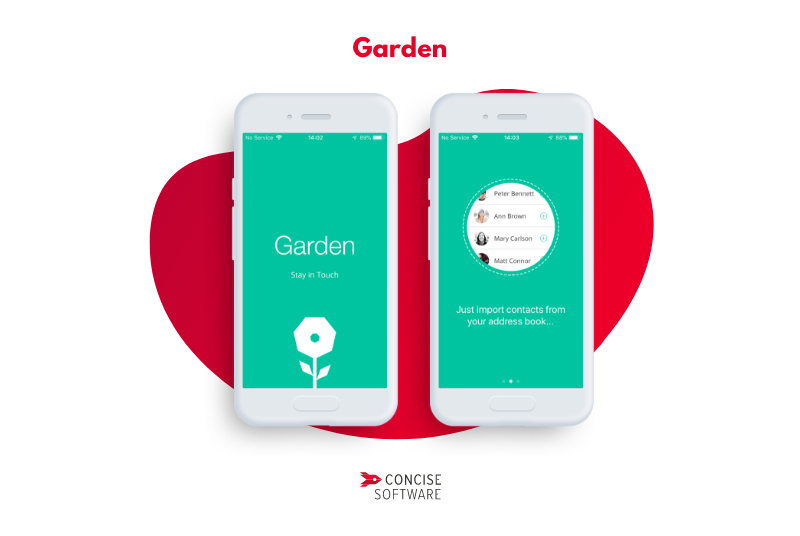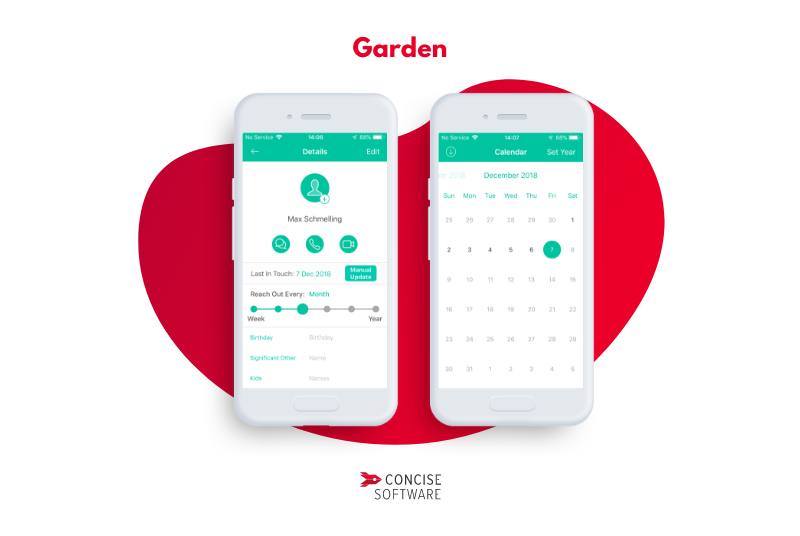 Garden at a glance
Garden, created by Zander Adell, is an application that allows you to manage contacts with people you care about the most. It allows you to add notes, reminders and personal data to each of them. It checks whether we contact specific people according to a pre-determined schedule. The application is great for managing contacts with family, friends and colleagues and at the same time it allows us to avoid the constant use of social media. 
Garden App was mentioned on: TechCrunch, Crunchbase, Surveyjunkie Blog and Product Hunt
Garden - a successful application for maintaining contacts
Garden, the program that we've worked on with Zander Adell, turned out to be a really successful business project, which gained the interest of users and technological media around the world. The application receives very high ratings in the AppStore store and is still used by a significant group of people. We are honored to have been able to work on this project!
The result
Concise Software has created Garden, a great-looking application, compliant with the latest standards. We have engaged our Design and UX specialists to create a user-friendly environment. Work on the program was supervised by our QA team. 
Concise took the time to understand the requirements and was passionate about creating a successful product. Their ability to mold a vision into a concrete plan with efficient solutions make them a valuable partner.
Alexander Adell, Founder, Garden
Let's work together.
Are you ready to build the future together?
ESTIMATE PROJECT